Light of Gurupurnima and Sri Alakhpuriji in Strilky Ashram
For the whole summer, Vishwaguruji will hold a yoga seminar in Mahaprabhudeep Ashram in Strilky, Czech Republic. All are invited to enjoy spiritual sadhana and beautiful satsangs with the master in the peaceful and pure atmosphere in the untouched nature of the ashram.
The highlight of this seminar, and the whole year, for every spiritual disciple, is Gurupurnima. It is symbolically the day when the first ray of the sun touched the Earth, the day that celebrates all teachers and the Guru tattva (principle of the teacher) – when the light of wisdom illuminates the darkness of ignorance.

>> Link to article about Gurupurnima <<
It is a special fortune and good karma to be with Gurudev on that day and hundreds of Vishwaguruji's disciples had that good fortune this year as well.
With the presence of hundreds of sannyasis and disciples, the morning of Gurupurnima began traditionally, with puja to Vishwaguruji and Mahamandaleshwar Swami Vivekpuriji. Sannyasis were greeted with flower malas, shawls and dakshina with Vishwaguruji's blessing. This holiest day was crowned with the highest darshan, Vishwaguruji inaugurated the holy image of Sri Alakhpuriji to the altar with Guru Aarati (prayer).
To the great joy of all present, after greeting Gurudeva, everyone was given a picture of Sri Alakhpuri as a special prashad. Vishwaguruji held a satsang, and after that, Swami Shanti shared her experiences in finding Sri Alakhpuri's and Sri Devpuriji's Gufa (sacred caves) in the Himalayas.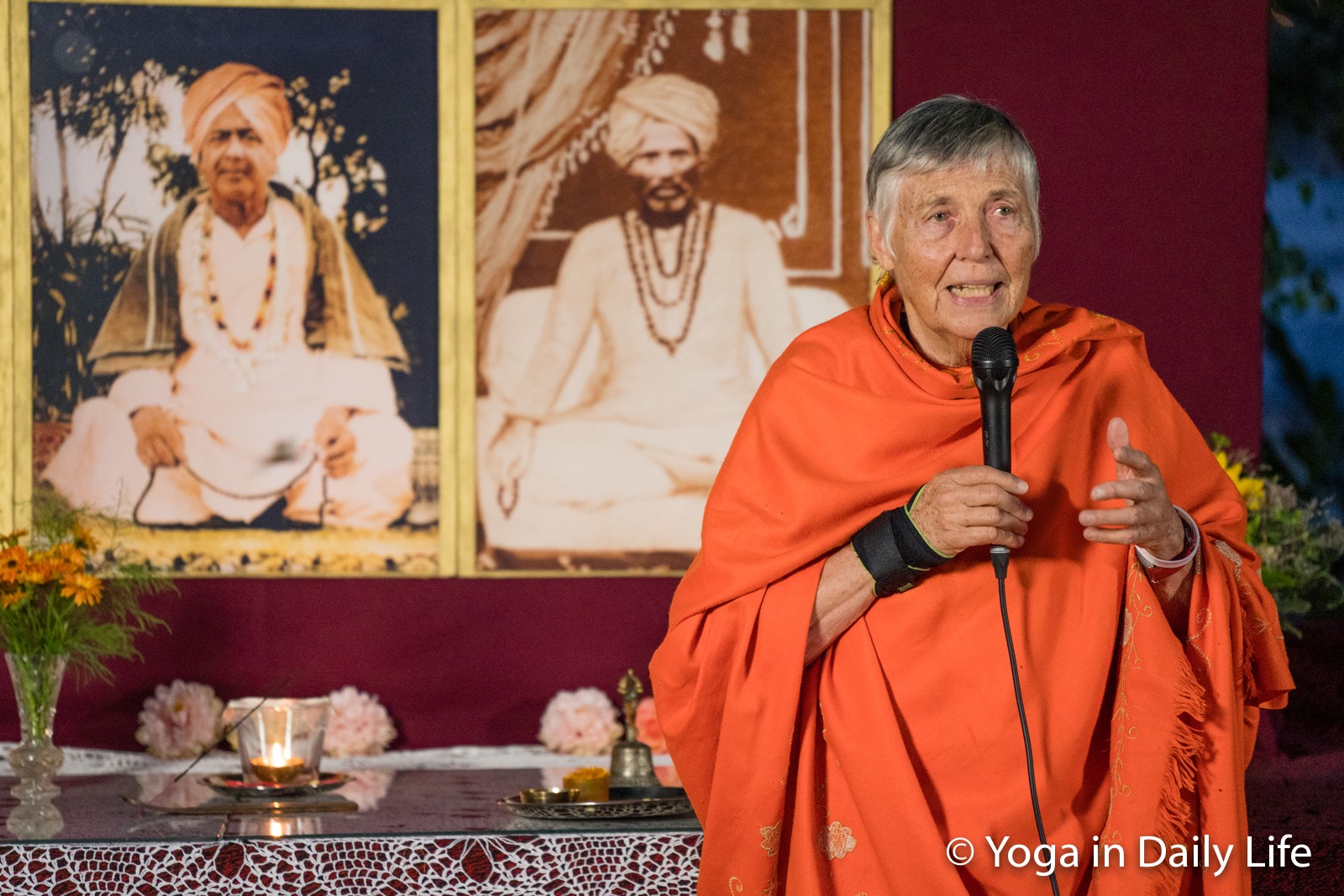 The rest of the day was spent in meditation and sadhana and socializing with friends. Everybody was happy to have the opportunity to be together in satsang after a long time. The evening satsang of Gurupurnima was marked by bhajans and the personal darshan of Gurudev for all.