Celebration of Vishwaguruji's birthday in Střílky Ashram, Czechia
Hundreds of bhaktas gathered to celebrate the birthday of Gurudev Vishwaguruji's birthday on Sunday 13 August 2023, in the 6th week of the annual Yoga in Daily Life Summer Seminar at Mahaprabhudip Ashram, in Střílky, Czech Republic. (Vishwaguruji's birthday is on 15 August according to Sun calendar and 19 August according to Vedic moon calendar for 2023)
Mother Nature kindly provided glorious warm sunshine, so the programs were held outside in the meadows under the shade of the ancient trees in the Castle Park.
Devotees of Vishwaguruji, spiritual aspirants, practitioners and teachers of Yoga in Daily Life, travelled from near and far, reuniting as a family to express their gratitude and give their wishes for good health, long life and successful fulfilment of Vishwaguruji's ongoing mission to help people, animals and the environment around the world.
Mahamandaleshwar Swami Phulpuriji arrived from India just in time to join Mahamandaleshwar Swami Vivekpuriji and several more of Vishwaguruji's sannyasis at the morning program, which began with Guru Puja (ceremony) whilst chanting the Guru Arati (prayer to the guru). The puja was initiated by Swami Umapuri and the other sannyasis, followed by other disciples sharing in the ceremony of offering light to the guru's feet.
Children have always been an integral part of Ashram events and activities, and after the Guru Puja, a large group of young children delighted everyone by acting out traditional spiritual stories through performing yoga asanas, and they also presented drawings of trees and nature, as their special gift to Vishwaguruji.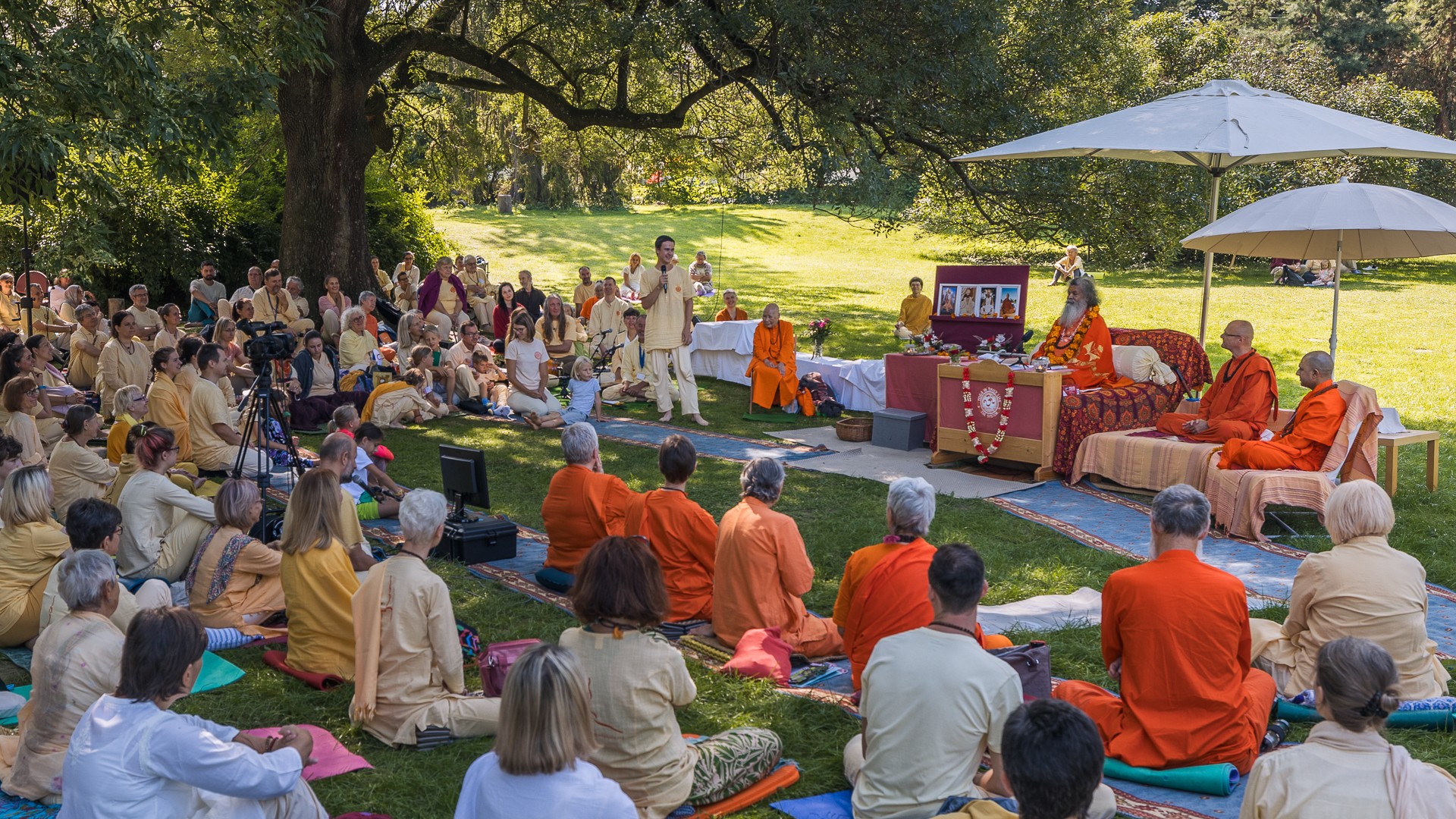 The gathering was then treated to anecdotes from bhaktas from age 16 to 53, who had been practising Yoga in Daily Life since childhood, each explaining the profound blessing it has been to grow up in a spiritual family with Vishwaguruji as their Gurudev – for some, since before they were born!
The event lasted for more than 3 hours, as everyone had the opportunity to greet Vishwaguruji personally, to offer gifts and receive darshan. For those who could not attend Střílky for the occasion, the whole program was broadcast on Swamiji.tv, and Yoga in Daily Life channels on YouTube and Facebook.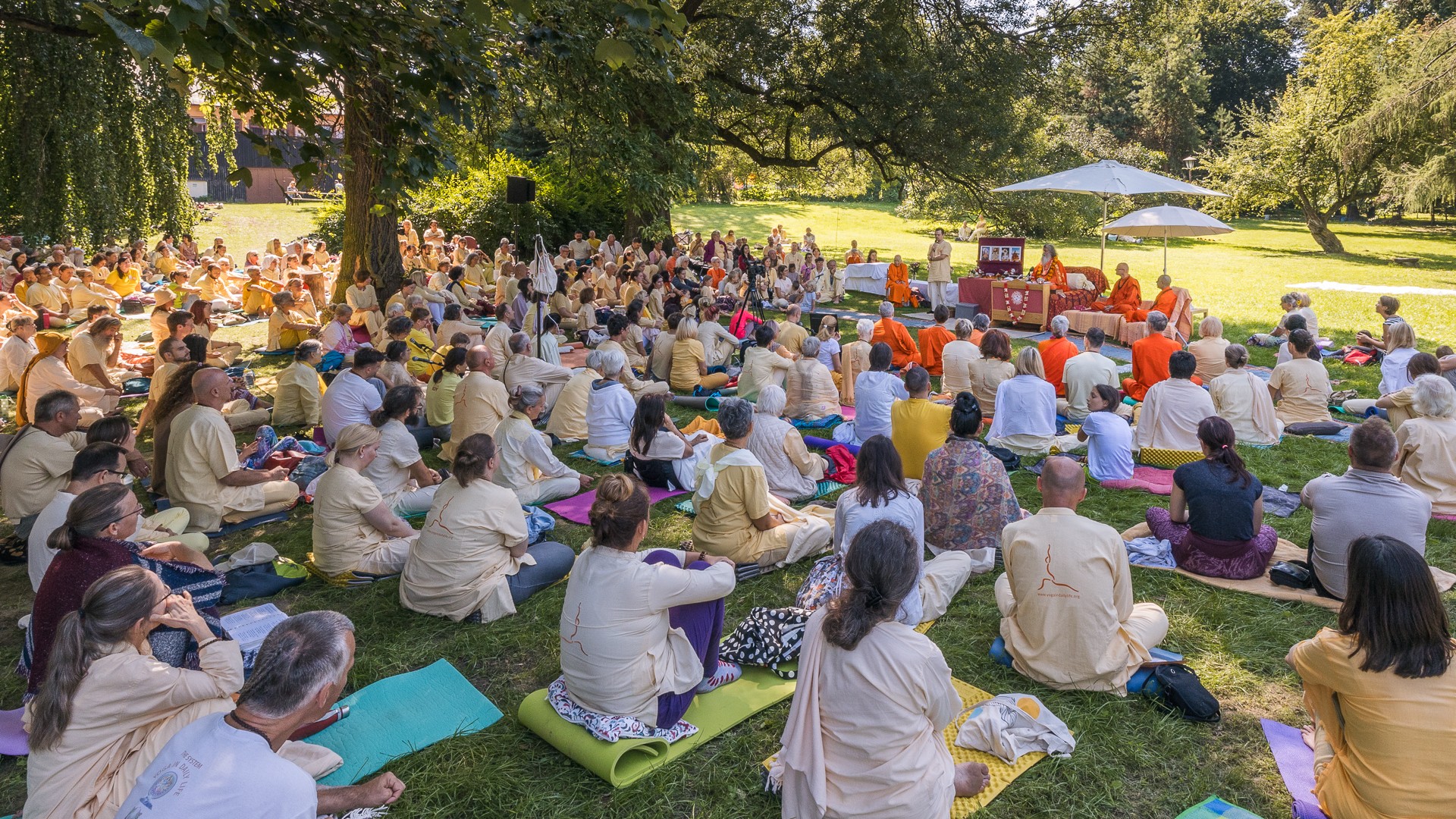 As well as the Children's Yoga program provided for the many children who attend with their parents, the Summer Seminar includes programs for people of all ages and abilities, such as General Yoga practice, Yoga Teacher Training, Kriya Anusthan advanced practice, and Karma Yoga service in the kitchen, garden, office and ashram housekeeping.
The full Seminar program continues in Střílky until Friday 18 August, when it then transfers to Vep, in Hungary, until the 27 August.
All are invited and most welcome to attend individual satsangs, days or the whole week for the precious opportunity to learn from a true Master of Yoga and be in such a special environment with fellow spiritual aspirants in the Holy presence of Gurudev.