Vishwaguruji in Haridwar, Rishikesh and Kedarnath
A visit to Kedarnath was the highlight of a two-week stay at the gates of the Himalayas.
18 June 2023 – Vishwaguru Paramhans Sri Swami Maheshwaranandaji spent the beginning of his Gurupurnima summer stay in Haridwar, one of the holiest places of India, where the Kumbha Mela takes place every 12 years. Before going to Rajasthan, he visited holy Kedarnath in the Himalayas.
Many programs and meetings with great spiritual masters and dear friends and devotees marked the past two weeks in Haridwar. Accompanied by Swami Avatar Puriji, Vishwaguruji was the special guest of Swami Ramdevji in the Patanjali Wellness Yoggram at the Patanjali Yogpeeth Haridwar, where, in addition to Ayurvedic sessions, Vishwaguruji attended many programs and had a series of meetings with Swami Ramdev.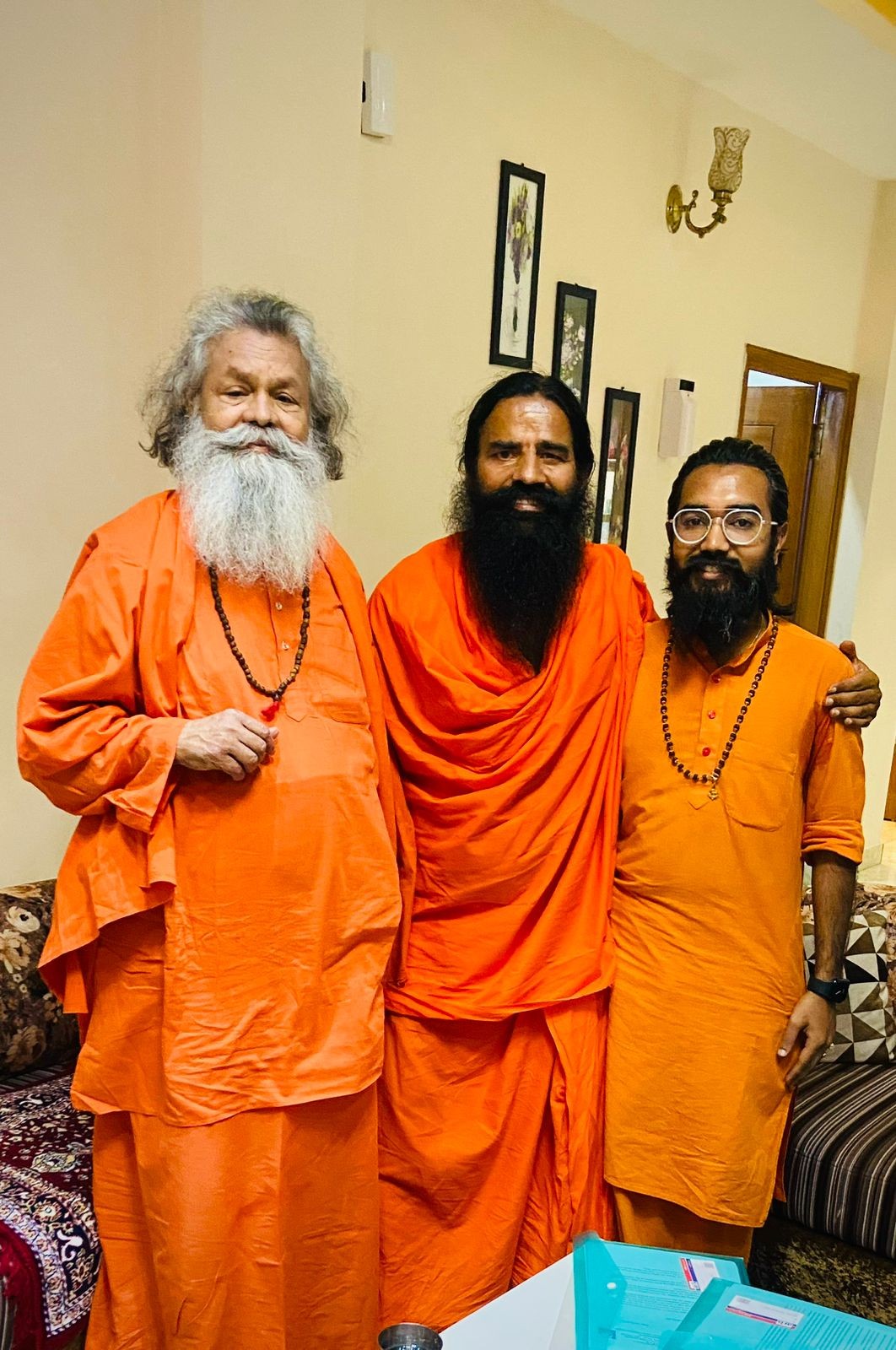 Vishwaguruji had also many meetings and visits during his stay in Haridwar, including meetings with Maha Nirvani Akhara secretary, Ravindra Puriji in Daksh Mandir, Gyan Dasji Maharaj from temple in Ayodya and akhara mahants (religious superiors, the heads of a monastery or ashram).
He also visited Mahamrityunjay Ashram of Mahamandaleshwar Swami Yamuna Puri and Pilot Baba Ashram, and met with Mahamandaleshwar Swami Santosh Puri Geetabhartiji and Mahamandaleshwar Swami Atmanandji.
One thing is sure, whenever saints come together, meetings become satsangs.
The Holy Mother Ganga (river) connects two cities where saints and yogis have been living from ancient times and still today. These cities are Haridwar and Rishikesh.
In Rishikesh, Viswaguruji visited Pujya Swami Chidanand Saraswatiji, who is the leader and guru of Parmarth Niketan, an ashram in Rishikesh known for its beautiful daily prayers on the Ganges.
On 17 June, Vishwaguruji, accompanied by Mahamandaleshwar Swami Gyaneshwarpriji and Swami Avatar Puriji, was guest of honour at the prayer.
On 18 June, Vishwaguruji travelled by helicopter to visit Kedarnath temple, where one of the twelve of Shiva's Jyotirlinga mentioned in Shiva Purana, is located. After puja to the Shivalingam, Vishwaguruji received some holy water for the opening of Om Ashram.
This was rare opportunity and Swami Avatar Puriji, Mahamandaleshwar Swami Gyaneshwar Puriji and few Indian bhaktas were very lucky to be present. The visit to Kedarnath was the highlight of a two-week stay at the gates of the Himalayas.
Before going to His ashrams in Rajasthan Vishwaguruji visited Mahamandaleshwar Swami Kamlanandji in his ashram and meet with Mahamandaleshwar Swami Arjunpuriji in Tulsi Manas Mandir in Haridwar.