Eternal Journey of the Soul in Main Creek, Dungog
18 - 19 February 2020
The two days bhaktas spent with Vishwaguruji in the beautiful divine atmosphere of Sri Devpuriji Ashram in Main Creek, Dungog, was a complete recharge for the body, mind and soul.
The ashram in Main Creek is surrounded by pure nature, away from any man-made noise, at the edge of the forest. On the ashram's property there is a nice camping compound, a kitchen, a beautiful prayer place, and a provisional 'hall tent' with only a roof (for the shade), so all the time one is surrounded by beautiful scenery, along with kangaroos and wallabies. The beauty of the sunrise during morning Shiva Arati (prayers) is indescribable.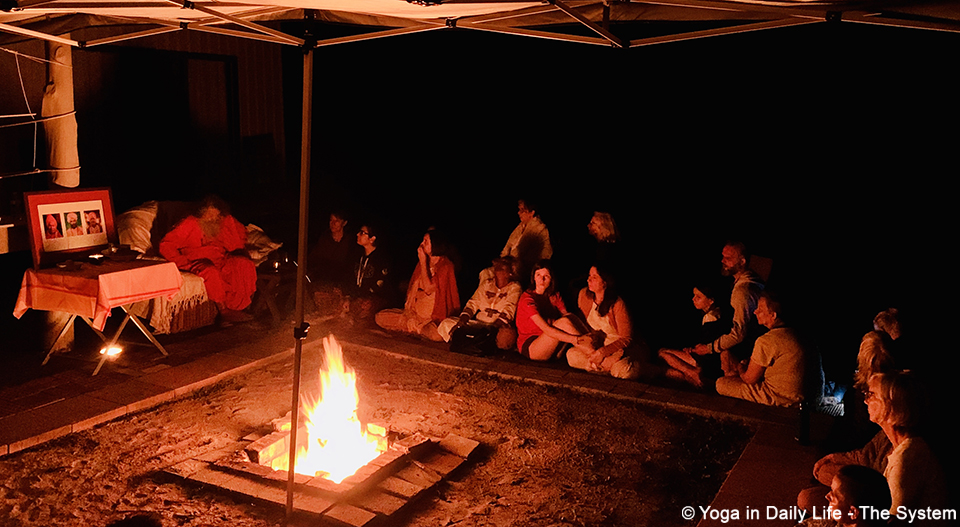 On 18 February, Vishwaguruji gave a yoga class in the CWA hall in the town of Dungog, teaching the Bari Khatu Pranam to the public.
On the Wednesday, 19 February, in the morning lecture in Sri Devpuriji Ashram, Vishwaguruji continued explaining to his disciples the meaning of the bhajan, Sri Guru Atma Paramatma and how in our meditation we should keep the mind on the Divine, and on Gurudev, which will open our heart and give us immense peace and bliss.
The evening program was bhajan singing and prayer, sitting around the dhuni (traditional Vedic sacred fireplace), under the beautiful night sky with clear scattered stars above us.