Opening of new ghat in Haridwar, India
During his autumn stay in India, Vishwaguruji was invited by Suresh Rathore, a Member of the Legislative Assembly to officially open a ghat (bathing place) on the River Ganga in Haridwar.
The new ghat is a part of a vast government program called "Namami Gange" with the purpose to clean and make the River Ganga (Ganges) beautiful.
Haridwar is one of the main holy places in India. Following the tradition of Sanatan Dharma, every Hindu should come and take a bath in Haridwar at least once in a lifetime. To help make that possible for the millions of people coming to Haridwar every year, this new ghat was opened. It is more than 1 km long and has easy access to the water and protection from being swept away by the river while bathing.
The main part of the program was a yagya (fire ceremony) dedicated to the opening.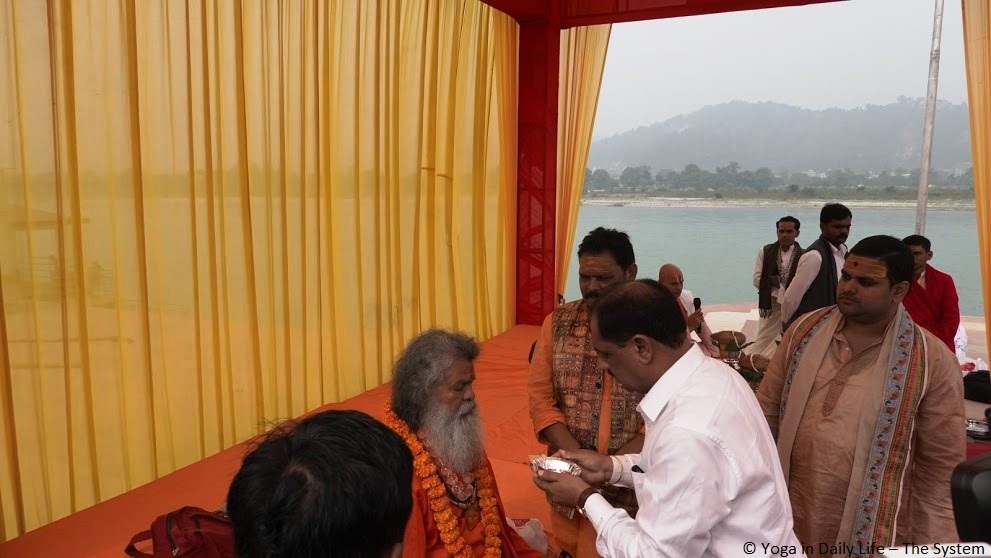 As a special and beautiful addition to the ghat, the statues of one of the most celebrated devotees, Mira Bai and her guru Ravidas, were also installed with a special ceremony.
Mira Bai was a Rajasthani princess, who crossed the boundaries of time, social rules and gender with her indescribable bhakti (devotion). She became a timeless symbol and model of total devotion to God. These two statues represent the timeless and indestructible bond of the guru–shishya (master-disciple) relation and overflow this new ghat on the Ganga with that energy of pure love. Everybody could see that Vishwaguruji, the perfect disciple of his perfect master Holi Guruji, immediately immersed in that radiance.