Holy Guruji's Mahasamadhi Satsang in Bari Khatu
Vishwaguruji's autumn visit to India each year is mostly dedicated to commemorating Holy Guruji's Mahasamadhi; and, as usual, Vishwaguruji's schedule in India is also filled with a variety of other events and work for the local community, Indian disciples and the ashrams of Sri Alakhpuriji Siddha Peeth Parampara.
On 3 November 2019, many distinguished guests, swamis and bhaktas from India and abroad, gathered at Sri Alakhpuriji Siddha Peeth Parampara Ashram in Bari Khatu (Nagaur District, Rajasthan, near Khachras village) to celebrate the auspicious day of the 16th Mahasamadhi (final liberation) anniversary of His Holiness Hindu Dharamsamrat Paramhans Sri Swami Madhavanand Puriji.
Before the evening satsang, opening pujas (prayers) and yagyas (fire ceremonies) were performed. Bhajans were Holi Guruji's favorite way of teaching yoga and Sanatan Dharma, and the whole day was just one big river of bhakti (devotion) and bhajans (devotional songs). Vishwaguruji, Holy Guruji's disciple and successor of Sri Alakhpuriji Siddha Peeth, organized the event with great love and deep devotion to his Master.
On this holy occasion, two new murtis (statues) of Sri Ganeshji and Sri Hanumanji were revealed and welcomed. The inauguration ceremony is called pran pratistha, which literally means "to breathe life (prana) into the statue" and it is ceremony of consecration, where hymns and mantras are recited to invite the particular deity (and energies represented by that deity) into the murti.
The closing of the Mahasamadhi celebrations of Holy Guruji was a procession from the Khachras village to Sri Alakhpuriji Siddha Peeth Parampara Ashram, followed by a bandhara (communal feast) for all guests.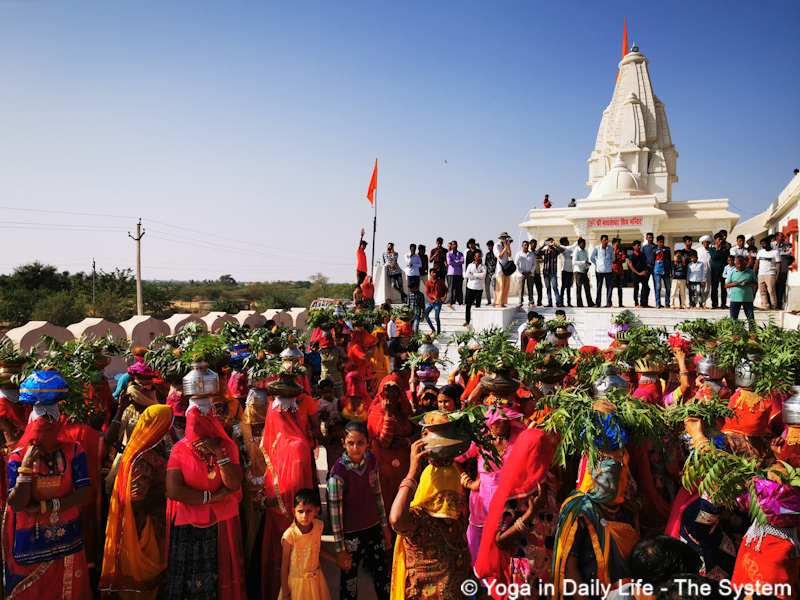 On 7 November, the inauguration of the Ayuryog Expo Conference will take place in Delhi and Vishwaguruji is invited as one of the conference speakers.