Sri Devpuriji's Mahasamadhi anniversary and Vishwaguruji's birthday satsang in India
On 2 August 2019, celebrations of the 75th anniversary of the mahasamadhi of Sri Devpuriji, the embodiment of Lord Shiva, took place in Kailash Ashram, the beautiful ashram of Sri Devpuriji in Rajasthan, India.
"Kailash Ashram is situated on a small hill in the desert. From it, one has a sweeping view of majestic sunrises and sunsets. To the north one can see ponds and a river and behind the river is an avenue of trees. In the opposite direction, several kilometres away, sits the village of Kailash. With the farmers' huts of thatched straw in shades of soft browns and greys, the scene resembles a pastel painting. A long valley opens out to the west and in the distance is a semicircle of rugged brown hills.
After sunset, campfires before the ashram were a common sight. Accompanied by the rhythm of instruments, the villagers came and left the day behind them as they gathered in satsang. Here on the edge of the desert, under a clear night sky, it seemed as if peace had descended upon the whole land. Every day Sri Devpuriji preached in the ashram and his words were like heavenly nectar for the listeners." – from the book Lila Amrit, by Paramhans Swami Madhavananda read more
The term samadhi is very often used in the yogic tradition. It is a special state of consciousness, which comes as a result of deep meditation. There are many types of samadhi but mahasamadhi is a special one. It is the final samadhi, when the atma of a person leaves the body and unites with the Absolute. That one needs not to return to the cycle of life and death. Only great saints can achieve that special state. Therefore, remembering that day has a special meaning in Indian tradition, reminding us that we too can become united with the Universal One.
Sri Devpuriji's Samadhi – from the book Lila Amrit, by Paramhans Swami Madhavananda
---
On 4 August, according to the lunar calendar, is the birthday of His Holiness Vishwaguru Mahamandaleshwar Paramhans Sri Swami Maheshwarananda Puriji, one of the greatest spiritual masters in the world today. As a disciple and successor of Hindu Dharmsamrat Paramhans Sri Swami Madhavananda, he is a part of one of the oldest spiritual lineages in India, Om Sri Alakhpuriji Siddha Pith Parampara, a line of holy incarnations and God-realized masters, starting with Param Mahasiddha Avatar Sri Alakhpuriji, to Paramyogeshwar Svayambhu Sri Devpuriji, Bhagvan Sri Deep Narayan Mahaprabhuji and Hindu Dharmsamrat Paramhans Sri Swami Madhavanandaji.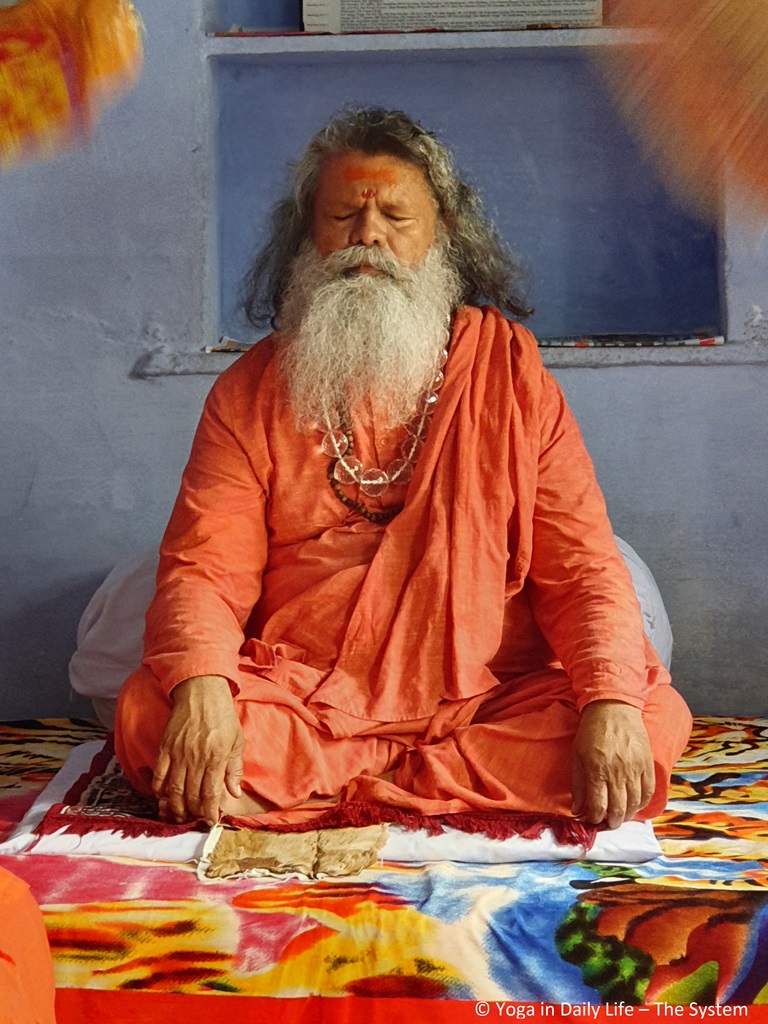 On his birthday, Vishwaguruji also managed to visit a family of bhaktas (devotees) near Kailash Ashram.
Satsang is the best way to celebrate the day when a great soul has come to this Earth and the bhaktas' great pleasure is to be with their Gurudev on that day.