Two weeks dedicated to Sadhana and Satsangs in Vép, Hungary
His Holiness Vishwaguru Maheshwaranandaji had his usual summer seminar in Vép, Hungary, for hundreds of devotees from all over Europe and around the world. Marking 40 years of Yoga in Daily Life in Hungary, the two-week-long program was a continuation of the spring weekend retreat in Střílky, Czech Republic, where the topic was 'Kundalini and Chakras'. The schedule of the seminar covered a lot new knowledge and interesting programs for the devotees and practitioners of Yoga in Daily Life.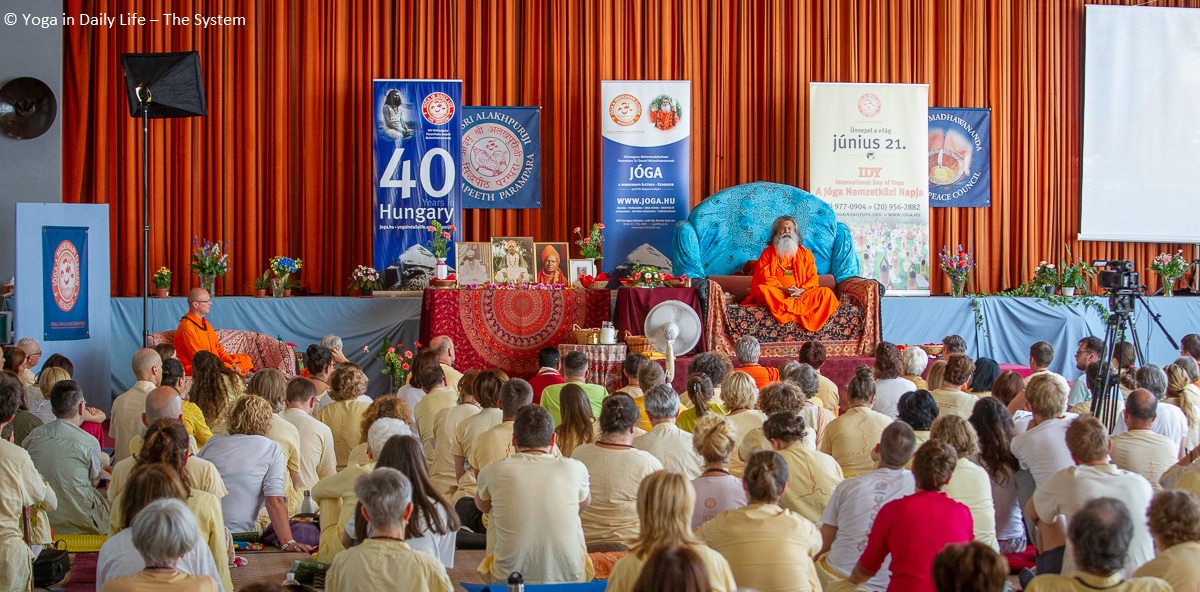 His Holiness Vishwaguruji embraced many topics during the program-rich second week, which was also a celebration connected to the 40-year anniversary of Yoga in Daily Life in Hungary.
Besides the Gurupurnima celebration His Holiness continued discourses on the main topic, 'Kundalini and Chakras'. He stated that, "practicing kundalini yoga definitely brings the practitioner to the highest state of consciousness. But for this process, you need a real spiritual guide, who has a long Parampara (master tradition) where knowledge is preserved and given further in a pure way". The Kundalini topic included also the pancha koshas, or five layers of human existence, and the nadis (energy channels) among the four most important are the vajranadi, ida, pingala, and sushumna.
Vishwaguruji said: "You have to transfer the theoretical information into practical knowledge. It is, in other words, the transfer from smriti to shruti (original revelation, and heard or received knowledge). Academic education therefore gives immense knowledge but still it is not useful in daily problem-solving. When you choose a book for getting spiritual knowledge you should find a pure source of that book with neutral commentaries, such as Gyaneshwari's (or Jnaneshwari's) Bhagavad Gita from the Marathi saint Gyaneshwar."
The 40th anniversary of Yoga in Daily Life in Hungary was celebrated with a conference in the presence of Vishwaguruji at Széchenyi István University, Győr, Hungary on 4 July 2019. Furthermore, the conference commemorated the 150th birth anniversary of Mahatma Gandhi and celebrated also the 70th Anniversary of the establishment of Diplomatic Relations between India and Hungary. More about conference can be found on www.worldpeacecouncil.net