Vishwaguruji celebrates International Day of Yoga in London, UK
20 - 22 June 2019
The 5th Annual International Day of Yoga was celebrated this year by Vishwaguru Paramhans Swami Maheshwarananda at a series of events in London, over 3 days, organized by the All Party Parliamentary Group (APPG) for Indian Traditional Sciences and the Indian Council for Cultural Relations (ICCR), supported by the High Commission of India in the UK, with guest speakers from the International Yoga in Daily Life Fellowship and the Sri Swami Madhavananda World Peace Council, as well as other esteemed organizations representing the fields of traditional medicine and Yoga.
Vishwaguruji was invited by the Indian Ministry of External Affairs as one of the chief guests to the 2nd International Conference on Yoga at the High Commission of India in London, organized by the Indian Council of Cultural Relations (ICCR), Government of India, in association with the Ministry of AYUSH and the SVYASA Deemed University.
This was one of several events supported by the High Commission of India that Vishwaguruji attended over three days, from Thursday 20 to Saturday 22 June 2019, along with other guest speakers from the International Yoga in Daily Life Fellowship and the Sri Swami Madhavananda World Peace Council, and other esteemed organizations, all representing the fields of traditional holistic medicine and the sciences of Yoga and Ayurveda.
---
Thursday 20 June 2019
Integrated Holistic Healthcare Forum – House of Commons, Westminster, London
The first event attended by Vishwaguruji, was an evening program held at the Houses of Parliament in Westminster, organized by the All Party Parliamentary Group (APPG) for Indian Traditional Sciences. As this year also coincides with the 70th anniversary of the National Health Service in the UK, the discussion was about enhancing the allopathic medical care with holistic health systems.
The event was attended by delegates from all over the UK, continental Europe and India, representing traditional and holistic methods of healthcare including Yoga and Ayurveda. Vishwaguruji was invited as a special guest speaker on the panel of experts, which also included Dr H.R. Nagendraji from SYASA.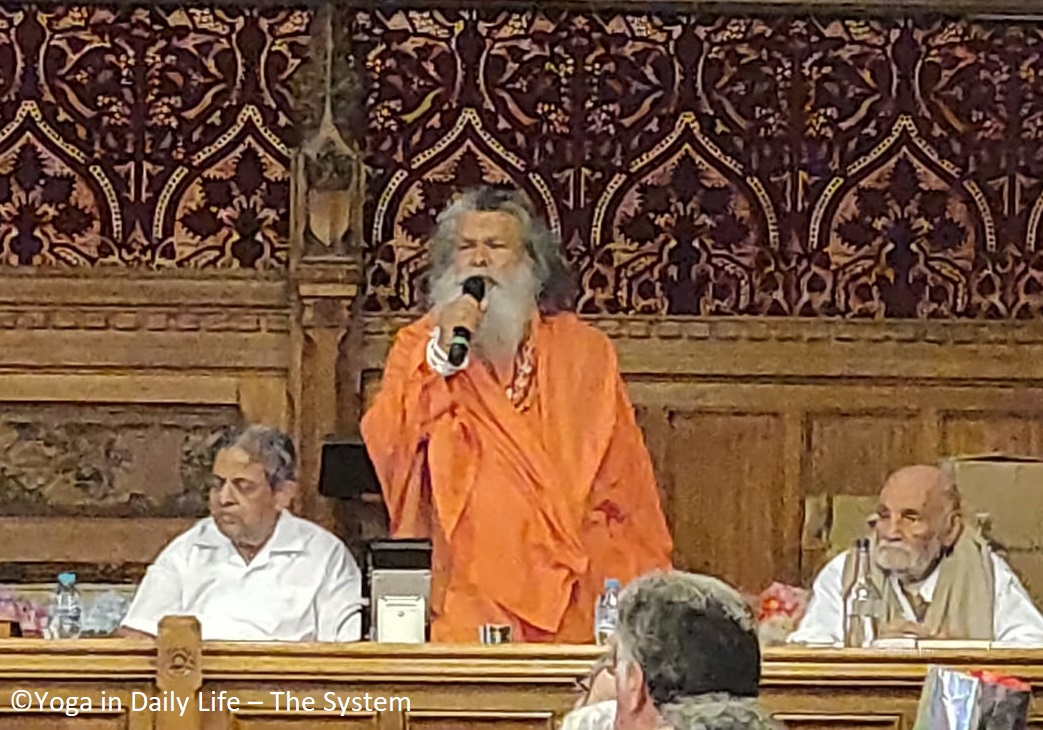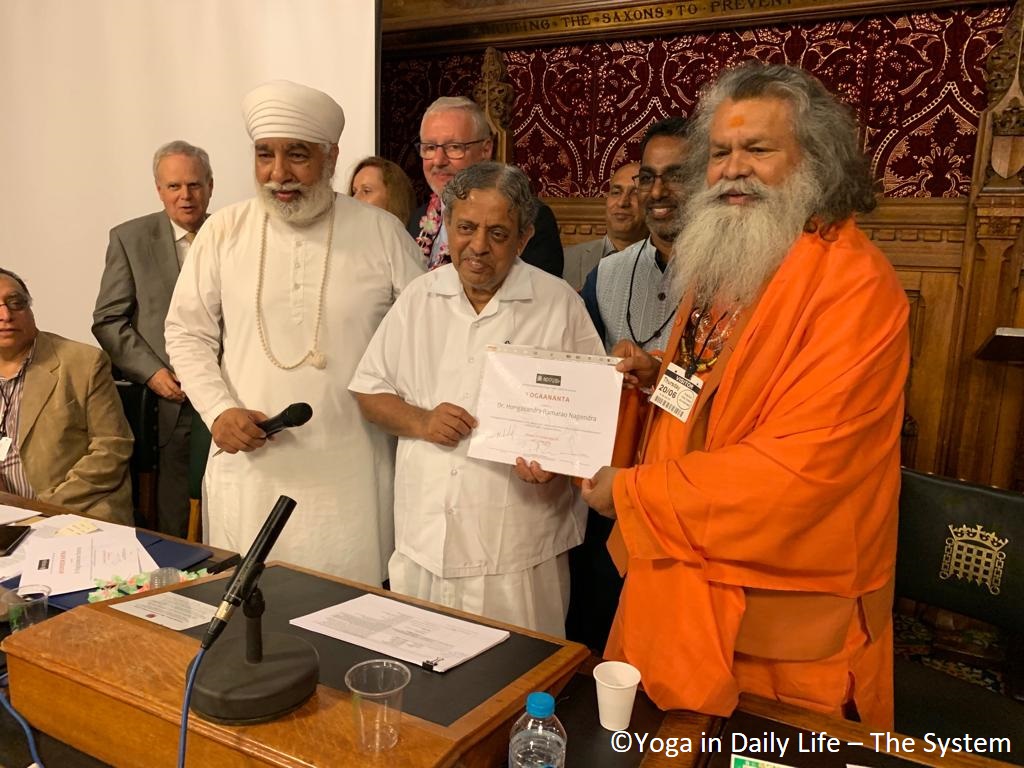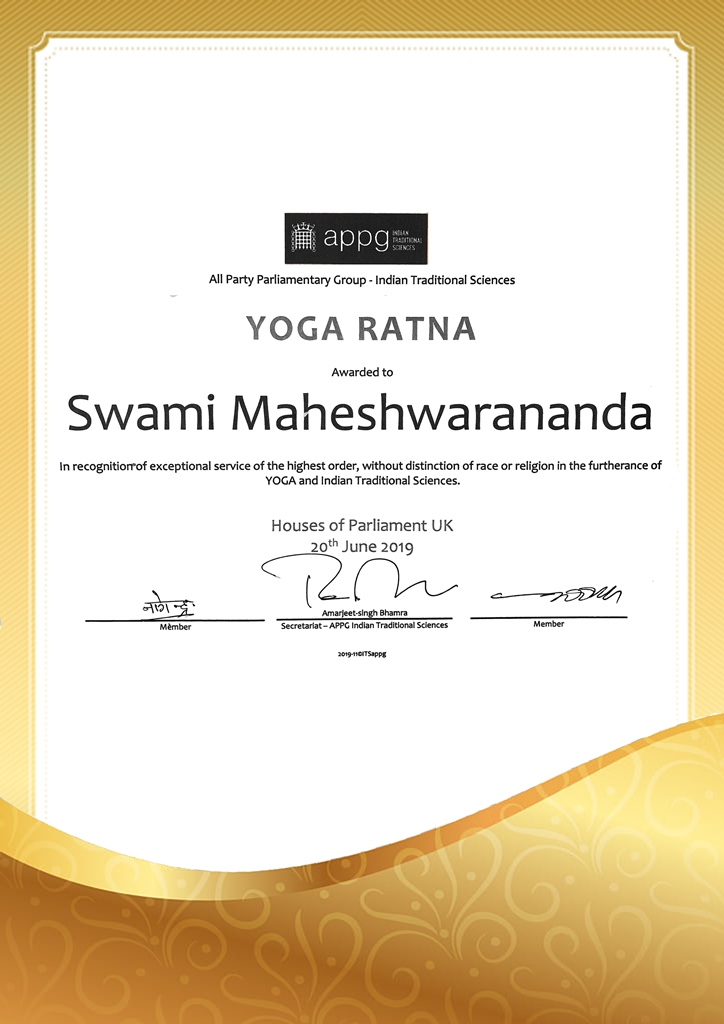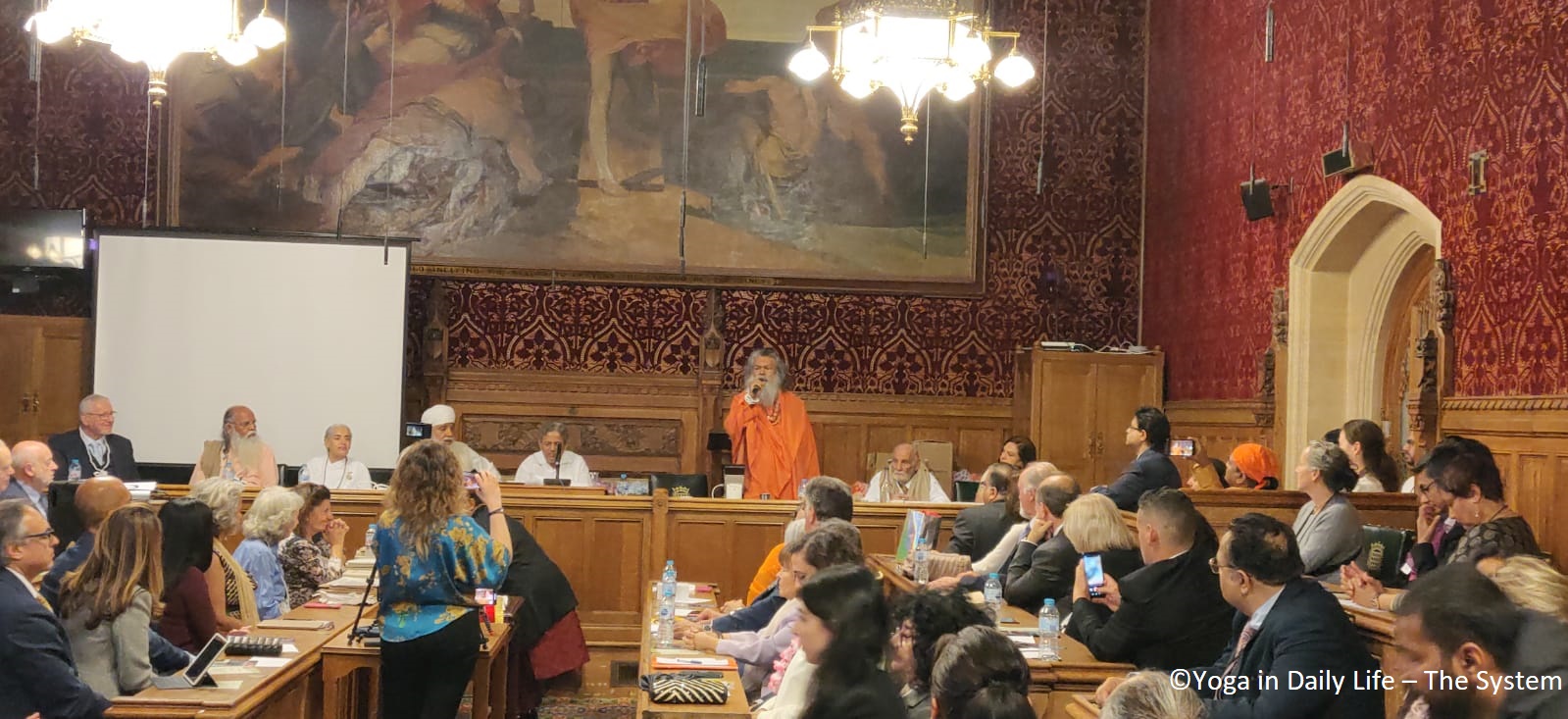 ---
Friday 21 June 2019
Special prayer ceremony – Basaveshwara Statue, Lambeth, London
The morning of 5th International Day of Yoga 21 June began with Vishwaguruji and Dr. H.R. Nagendraji perfoming a special puja (prayer ceremony). The special celebration was organized by the Lambeth Basaveshwara Foundation and took place at the Sri Basaveshwara statue beside the River Thames, opposite the British Parliament. Dr Nagendraji, Chancellor of SVYASA University is a dear friend and colleague of Vishwaguruji and Yoga in Daily Life.
Basaveshwara (1134-1168) was a pioneer of democracy and a social reformer from South India, and this statue was unveiled in his memory by respected Prime Minister of India Sri Narendra Modiji in November 2015.
---
International Day of Yoga Symposium 2019 – Nehru Centre, Mayfair, London
After the special prayer ceremony at the Basaveshwara Statue, Vishwaguruji crossed over the River Thames and was welcomed as the main Guest of Honor, along with Dr. Nagendraji from S-VYASA University, at the International Day of Yoga Symposium, organized by Mr Amarjeet S. Bhamra and the All Party Parliamentary Group (APPG) for Indian Traditional Sciences, at the Nehru Centre, considered the flagship cultural center for the Indian Council for Cultural Relations (ICCR).
Vishwaguruji inaugurated the event with his address:
"Dear Sisters and Brothers, we are bringing again the blessing of all great yogis, rishis, and many other great saints, from thousands and thousands of years. They gave the knowledge to the mankind, how to live life and how to protect each and every entity, to take care of our vegetation and live on this planet as divine beings, caring for all creatures in the water, on the earth and in the air.

Time to time negative energy appears. There are always rakshas (destructive forces) and devas (divine beings) – but always the yogis and saints are protecting us. Enemies are everywhere.

Patanjali explained Yoga in such a way that we can understand and practice. Yoga is one, it means oneness. The first words of Patanjali were, "discipline brings the path to Yoga"; meaning that just now – don't think we will begin Yoga tomorrow, no – just now, we should make a sankalpa, a resolve, of what we should do. Yoga is a path, there are many different paths, and different yogis. In Hatha Yoga, (where there are 6 techniques), Kriya Yoga, Kundalini, Chakras, there are many different paths. Whichever one you choose to practice, finally we all come to one path.

This day is a day which will be marked for ages and ages as 'Yoga Day'. Without yoga and without practice, we will not come further. We are not on the right path, the humans. We should not kill any creatures – no meat, no fish, no eggs. Second, we should have love for all creatures, otherwise we will not come further. Grapes are nice fruits, but the same grapes can turn into alcohol. When you do the asanas please don't abuse alcohol. With Yoga we can achieve our path. My respect to all of you and I wish we come to sattvic path, no meat, no alcohol – with discipline."
The Yoga Symposium continued and with speeches from many international guests, including: Dr Nagendraji, SVYASA University; Sister Jayanti, Brahma Kumaris; Dr Hakim Salim, College of Medicine and Healing Arts UK; Dr Mauroof Athique, Ayurveda College UK; Prof. John Porter, London School of Hygiene and Tropical Medicine UK; Dr James Mallinson, The Hatha Yoga Project; who all stated the importance of celebrating the Yoga Day on an international level.
---
IDY Yoga Practice in the Park – Victoria Tower Gardens, Westminster, London
In the afternoon, following the Yoga Symposium, Vishwaguruji and the Yoga in Daily Life delegation, travelled the short distance from Mayfair to Victoria Tower Gardens, next to the Houses of Parliament. Here he led a practice session at the multi-organisation group yoga gathering celebrating International Day of Yoga. Hundreds of yoga practitioners and members practiced together and were joined by members of the public who were passing by.
The main aim of IDY is to introduce Yoga to people across the globe, so that all may benefit from the positive benefits to health and wellbeing, and this was a perfect occasion for people to experience it for themselves, with Vishwaguruji leading simple asanas, as well as some chanting and meditation.
---
Saturday 22 June 2019
2nd International Conference on Yoga – Gandhi Hall, High Commission of India, London
The all-day Conference in the beautiful Gandhi Hall of India House, began with a presentation of books regarding many aspects of practicing and applying Yoga and Ayurveda. A video greeting for IDY was then projected for the conference participants, from the Indian Prime Minister, Sri Narendra Modiji, encouraging all to celebrate and spread the practical science of Yoga.
It was a full schedule with many speakers on subjects such as:
Yoga and Ayurveda: Growing Universal Influence
Yoga for Mental Health
Yoga as Lifestyle
Yoga and Spirituality
A lecture on 'Evidence-based effects of Yoga in Daily Life practice for well-being and health' was delivered by Dr Dejan Dinevski (Dayalpuri), Professor of Yoga and Biomedical Informatics and President of Yoga in Daily Life Maribor Society in Slovenia, outlining some of the past and ongoing research studies conducted by himself and colleagues, particularly highlighting studies into:
Yoga for Pregnancy
Yoga for Primary School Children
Yoga in Prisons
Yoga and Diabetes
Gregor Kos M.Sc. (Sugandpuri), Secretary General of AYUSH Europe, who is on the board of both Yoga in Daily Life International and Sri Swami Madhavananda World Peace Council, and also hails from Slovenia, gave a presentation about the wide ranging influence of Yoga in Daily Life around the world for the past five decades, since Vishwaguruji first arrived in Europe.
The Conference came to a close after an inspiring session with Vishwaguruji on Yoga and Spirituality, in which he emphasized the importance of practice and applying the great philosophies of Yoga into ones daily routine in order to gain the physical, mental, social and spiritual benefits, saying, "We must feed the cow in order to receive the butter. Practice brings about the reality."
Vishwaguru then proceeded to lead some stretching exercises and a practical demonstration for each person to experience the life force, prana, in their body. He also led the chanting of AUM as the primordial sound through which the whole universe has come into existence.
Master of Yoga, Vishwaguruji then concluded his talk with a reminder that Yoga brings us to the understanding and experience of Oneness – that we are all One: brother and sister humans, animals, plants and vegetation, the whole universe.
One in All and All in One.