Report: World Peace Conference 2018, New York
His Holiness Vishwaguruji Swami Maheshwarananda returned to New York City on 5 March 2018 to add his voice to the worldwide plea for peace, by leading a milestone conference at the United Nations Headquarters on the topic: Yoga and World Peace.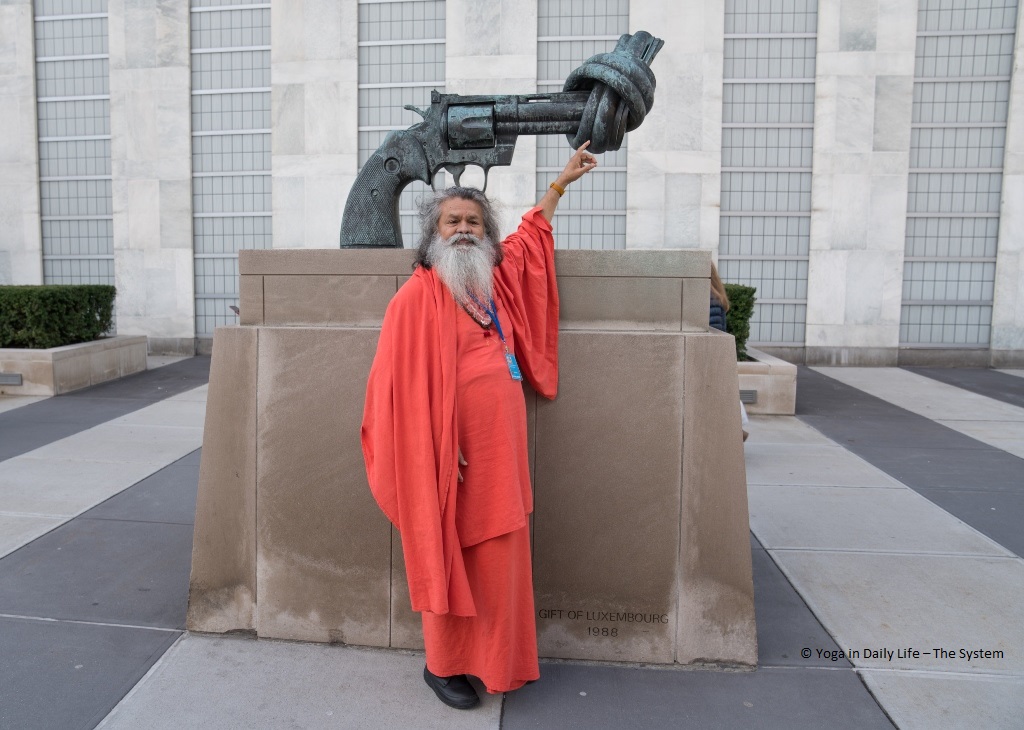 The conference followed a similar event in 2015 at the UN offices in Vienna, Austria – the first time that NGOs had organized such an event on UN premises. Three non-profit entities, the Sri Swami Madhavananda World Peace Council (SSMWPC) and the US and Australian Associations of Yoga in Daily Life, have special consultative status with the UN's Economic and Social Council (ECOSOC), as non-governmental organizations (NGOs) that support the UN's mission.
Organizers
The conference team included volunteers from Yoga in Daily Life and the SSMWPC, led by the manager of New York YIDL Ashram, Denis Lucil (Kripadevi); and executives of the SSMWPC, Gregor Kos, Renate Lavicka and Eszter Lukacs (Sugandpuri, Radha and Hemvati).
Guest speakers were invited from more than a dozen countries; an archive of letters and statements from additional dignitaries was compiled and published as a souvenir booklet, with the assistance of Swapnil Kothara of Indira Group; and the main organizers cooperated with UN officials to arrange sponsorship, location, and logistics. Much co-organizational support was given by the UN's International Day of Yoga (IDY) Committee and the UN Staff Recreation Council's Enlightenment Society.
International Delegates
On arrival into New York, Vishwaguruji and accompanying international delegates were welcomed by his devoted disciples, Sudesh Mehta and family, with a delicious meal of traditional Indian dishes. In the evening, delegates met again with Vishwaguruji to discuss his goals for the conference and the logistics of the days ahead.
On the next day, participants traveled to the UN Headquarters to obtain security passes and enjoy a tour of the historic building. Following a relaxing evening satsang with international guests as well as local bhaktas and yoga students at the New York Ashram, Vishwaguruji and all conference delegates then retired early, to rest and prepare for the special events.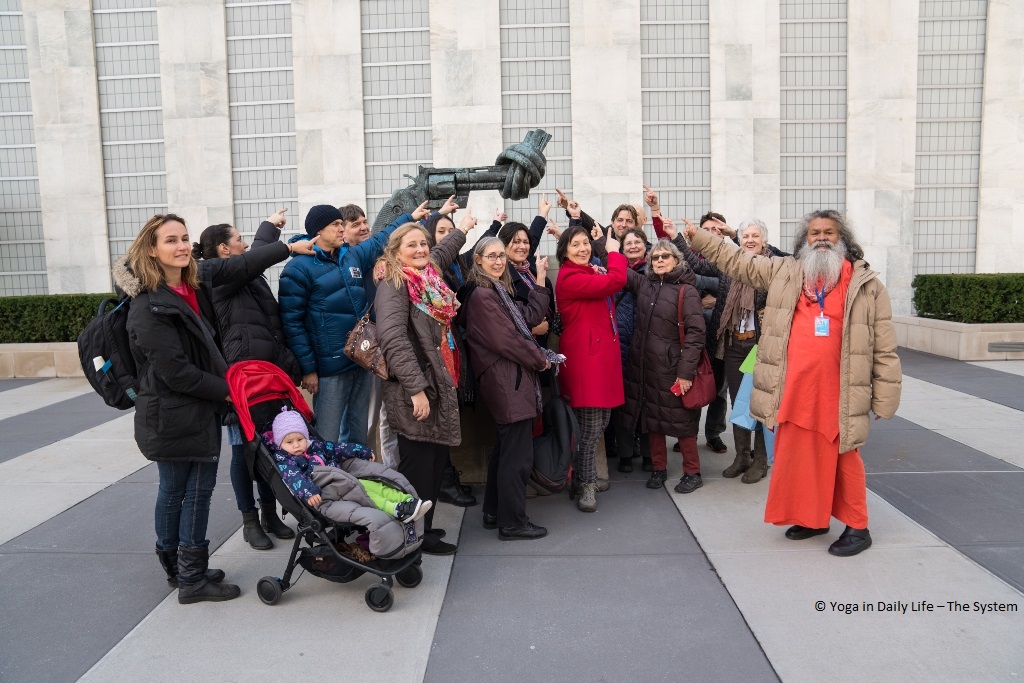 Conference Day
The morning of March 7 dawned with cloudy skies and the forecast threat of a crippling winter snowstorm. However, under the protection of Mahaprabhuji, the severe weather held off until after the conference!
Morning Session
In the morning panel session, held at the UN Headquarters, distinguished guests shared views on how and why Yoga can contribute to efforts for more peaceful, ethical societies, such as:
teaching Yogic practices to children from a young age;
encouraging a mindset for all of greater awareness and consciousness;
nurturing kindness for fellow humans;
and reminding Yoga practitioners of Yoga's roots as a spiritual force for inner and outer peace.


Denise Scotto, conference co-organizer, spoke eloquently about how the Yogic principle of tolerance mirrors the principles of the UN and the IDY Committee, which she chairs, and how tolerance can give rise to collective action.
At the suggestion of UN representative Ramu Damodaran, the participants agreed to consider adopting the following acronym as a mantra: YOGA – Years Of Global Action.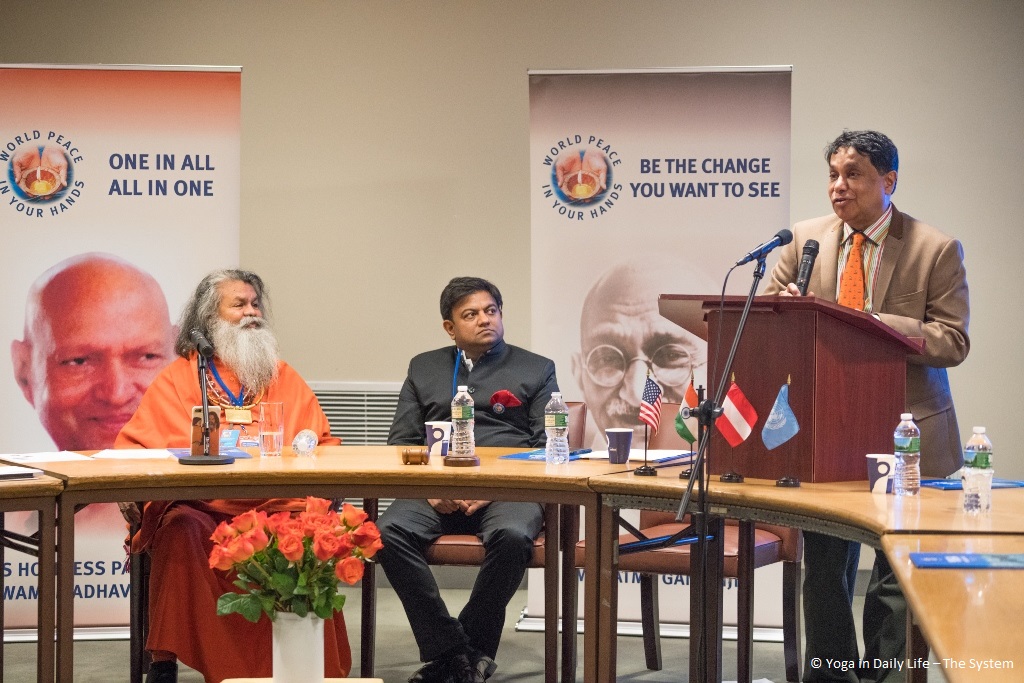 Vishwaguruji, channeling messages from revered spiritual leaders Mahatma Gandhi and Holy Guruji Swami Madhavananda, reminded the audience that in order to teach peace, understanding and harmony, each of us must begin by vowing non-violence toward all creatures and striving to achieve oneness with the Divine Consciousness.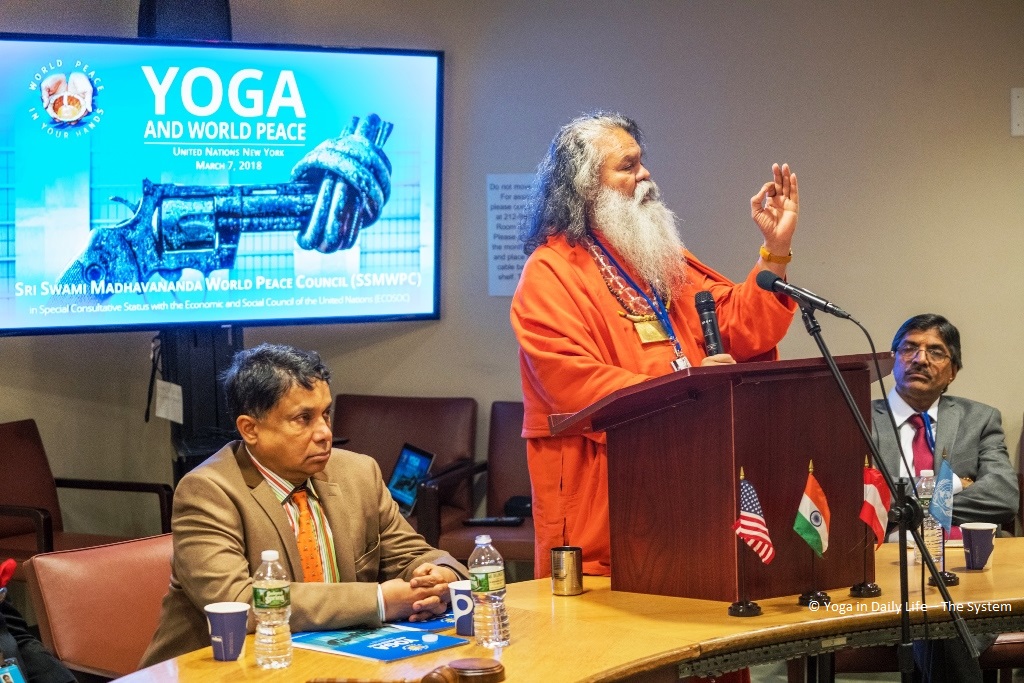 "As a river divides into separate channels then comes together again, so the religions must recognize that all paths lead to the same destination – the Supreme," his message continued.

Afternoon Activities
After the morning panel, Vishwaguruji and delegates visited local Hindu temples in the outlying boroughs of New York City, including the Sri Geeta and Sri Divya Dham Temples run by Mahamandaleshwar Swami Satyanand. At the Ganesh Temple they were welcomed with warm hearts and warm food, and conference speaker Uma Mysorekar, president of the Hindu Temple Society of North America, sat down with Vishwaguruji to continue their dialogue.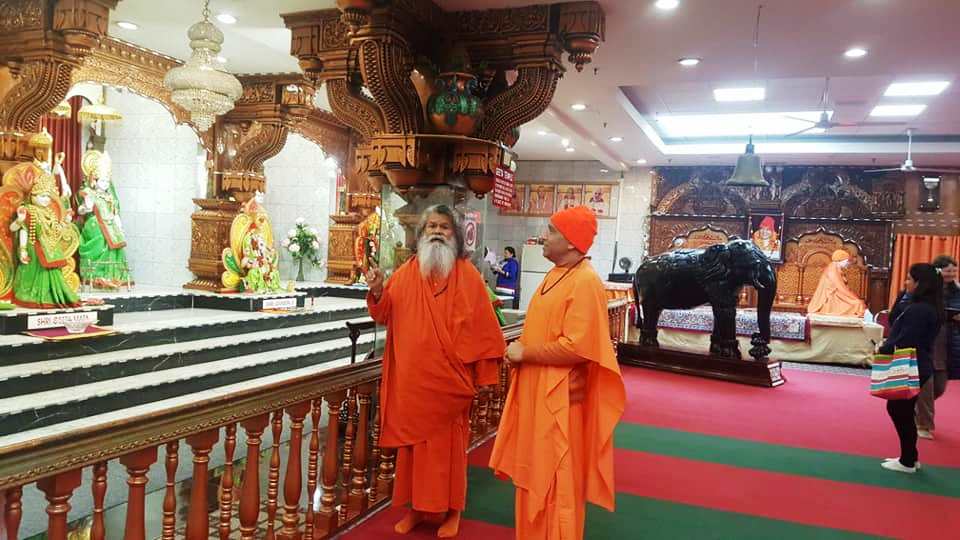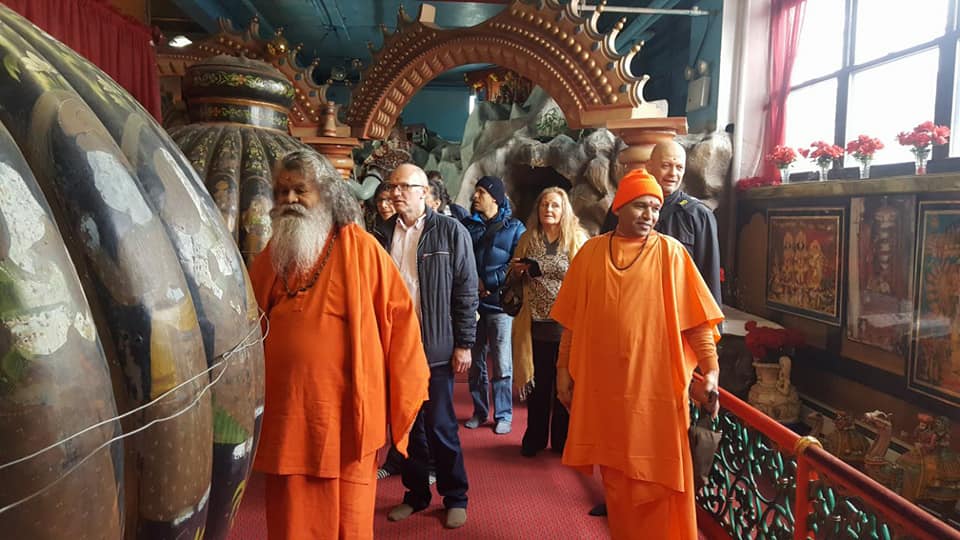 Evening Session
During the evening session at Shiv Shakti Peeth Temple, Vishwaguruji and his long-time friend and fellow Mahamandaleshwar, Swami Harishchander Puri, continued the program by delighting everyone with their humor and wisdom, whilst sharing their thoughts about peace. International bhaktas and delegates also contributed their personal reflections on Holy Guruji's contributions to peace in the world, as well as to their own lives.