Mahaprabhuji's Mahasamadhi satsangs in Vienna Ashrams
Two satsangs dedicated to Mahaprabhuji's Mahasamadhi anniversary took place in the beautiful Vienna Ashrams of Yoga in Daily Life. Both were on the exact date of the anniversary: one according to the Solar calendar; and the other according to the Lunar calendar, as is traditionally followed in India.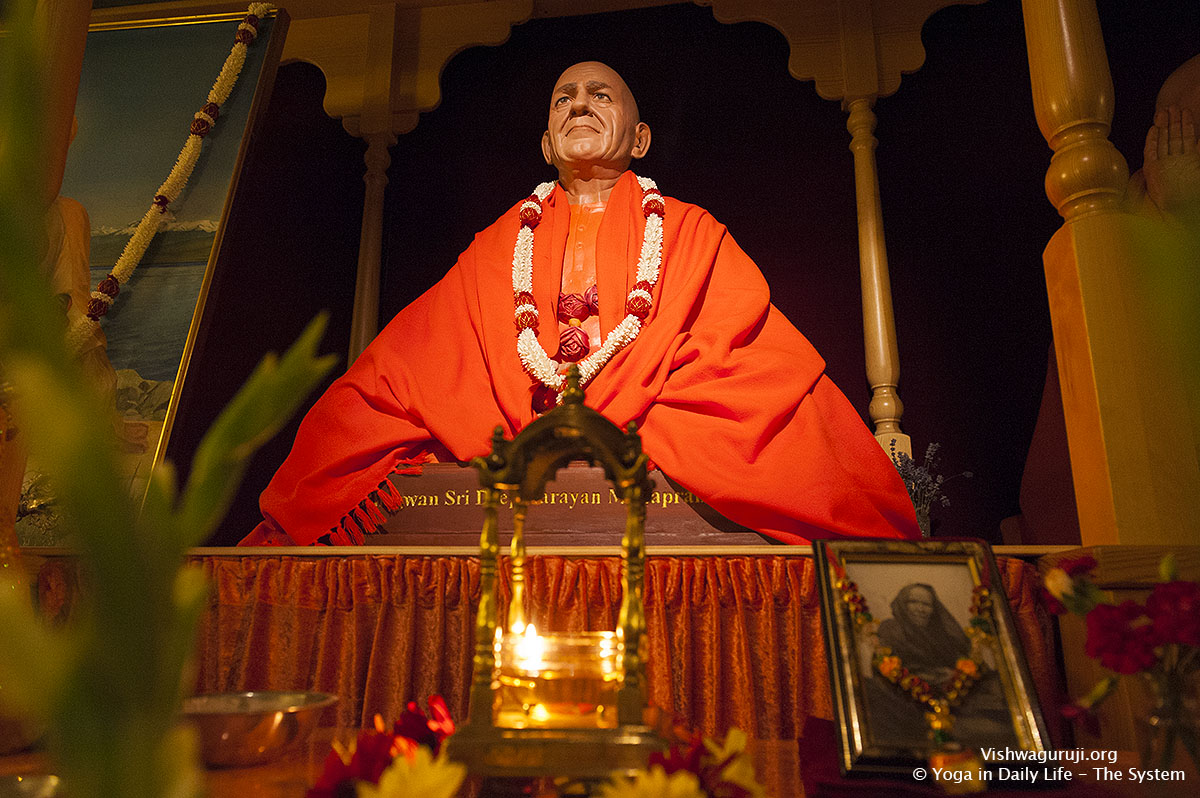 ---
Mahaprabhuji Mahasamadhi Satsang in Mahaprabhuji Ashram - Yoga in the Daily Life Center, Vienna
On 5 December 2017, the western calendar anniversary of Sri Mahaprabhuji's Mahasamadhi, bhaktas from Vienna and abroad gathered in Mahaprabhuji Ashram, the first ashram founded by Vishwaguruji, from which the Light of Mahaprabhuji and the benefits of the system of Yoga in Daily Life have spread throughout the world.
Many longtime disciples shared their memories and experiences, and Vishwaguruji also spoke of Mahaprabhuji and the beginnings of Yoga in Daily Life and his life and work in Vienna.
Vishwaguruji recalled that the most important thing to do is stay in "Gurudev's boat" with confidence and patience. Those who jump out of the boat before they reach the shore, will sink into the ocean of Maya (illusions).
Vishwaguruji ended the satsang with a blessing: "May Mahaprabhuji bless and protect us so that we all reach the shore and unite with the Divine Light."
---
Mahaprabhuji Mahasamadhi Satsang in Holy Guruji Ashram - Yoga in the Daily Life Center, Vienna
The anniversary of Sri Mahaprabhuji's Mahasamadhi, according to the Jyotish Vedic constellation and calendar, was on Thursday 7 December 2017.
Vishwaguruji held an evening satsang in remembrance of Mahaprabhuji together with many bhaktas in Vienna's Guruji Ashram. It was a divine evening filled with bhajans of Mahaprabhuji and Holy Guruji, and all felt intensively the truth of Mahaprabhuji's holy words before he left his physical body, that have been transcribed in the Lila Amrit:
"Don't be afraid! You are always with me and I am with you. Whenever my devotees think of me I will be present, no matter what country, what place, what year it is."
In this satsang, Vishwaguruji gave a special blessing to the devotees. He said that every time he stood before the altar and Mahaprabhuji's picture, Holy Guruji would pray, "Oh Mahaprabhuji, I pray for your saguna and nirguna svarupa (true form, true quality) in my heart forever."
Vishwaguruji said this is his prayer also, and ought to be our prayer and mantra every time when we greet the altar.
At the end of the satsang, after evening arati (prayers) Vishwaguruji guided a short meditation with the mantra:
OM Prabhu Deep Niranjan Saba Duhkha Bhanjan
Merciful Mahaprabhuji, please protect us and remove any negative energies so that nothing will harm us.