Seminar in Kranj, in the Slovenian Alps
17-19 November 2017
On a cool November weekend, His Holiness Vishwaguru Maheshwaranandaji visited Slovenia and warmed the hearts of many Slovenians and other seminar participants from all around the world.
On the first day of his visit, Vishwaguruji opened two new Yoga in Daily Life centers in Murska Sobota and Ptuj, in the presence of the Indian Ambassador to Slovenia, H.E. Paramjit Mann. Deputy Mayor of the area, Mr Boštjan Berlak also joined the opening ceremony in Murska Sobota; and local Mayor Mr Miran Senčar in Ptuj.
In the evening of that great day, the Weekend Seminar began in Kranj. This small city, near Ljubljana, the capital of Slovenia, has a long and noteworthy history and is located in a beautiful environment, which includes the river Sava and the already snowy peaks of the Alps. Kranj also houses a beautiful center of Yoga in Daily Life.
H.H. Vishwaguruji emphasized that the methods of Yoga and Ayurveda are the best ways to prolong one's life and improve health. The human body and mind are contaminated with what are called vikaras - impurities, including negative thoughts and the lack of proper nourishment. Yoga and Ayurveda provide the tools for cleansing these impurities.
Vishwaguruji further explained that these sciences have been transmitted by great saints who live in remote places and most of the time they cannot even be seen. They care for and protect not only mankind but the whole planet.
Part of the program was dedicated to the practice of Meditation using the resonance of the mantra AUM, for purification and healing; and in the Saturday evening satsang, Vishwaguruji emphasized the importance of mantras for daily use.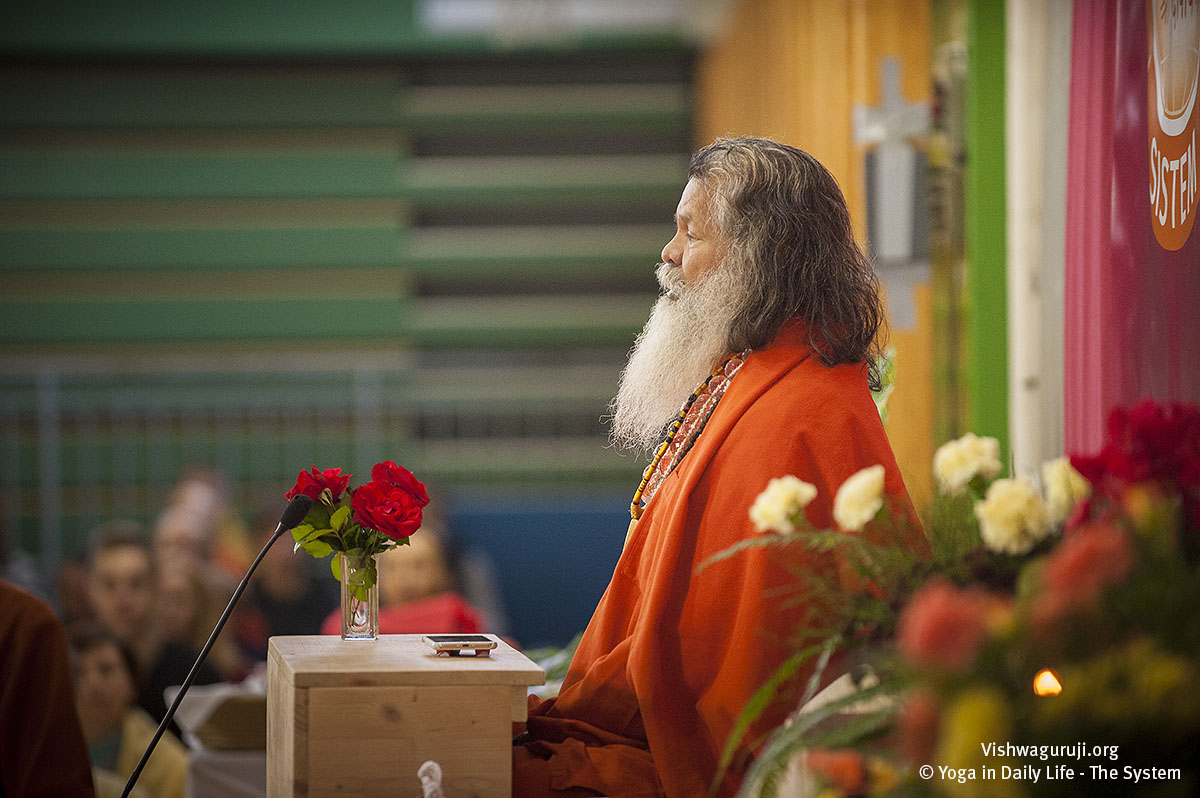 The closing session of the seminar continued to provide techniques in support of health, with particular yoga postures such as vajrasana and inverted poses.
In order to have a complete yoga sadhana (practice), Vishwaguruji said that proper eating and pranayama are necessary. Together these methods can create the optimum state of health, that is always supported if Yoga in Daily Life is practiced consistently.
On Sunday evening, at the end of his visit to Slovenia, Vishwaguruji opened new yoga center in Slovenska Bistrica, where programs with the Maribor Society of Yoga in Daily Life have taken place since 1992 - 25 years. On arrival, Vishwaguruji lit an oil lamp symbolizing the light of wisdom, and in his speech he emphasized the importance of yoga being accessible to all age groups, in order to achieve health, harmony and inner peace.
The warmth of this special event over a few days will surely remain for a long time in the hearts of all present, teachers and studnts alike.