Sharad Purnima with Vishwaguruji in Guruji Ashram, Vienna
5 October 2017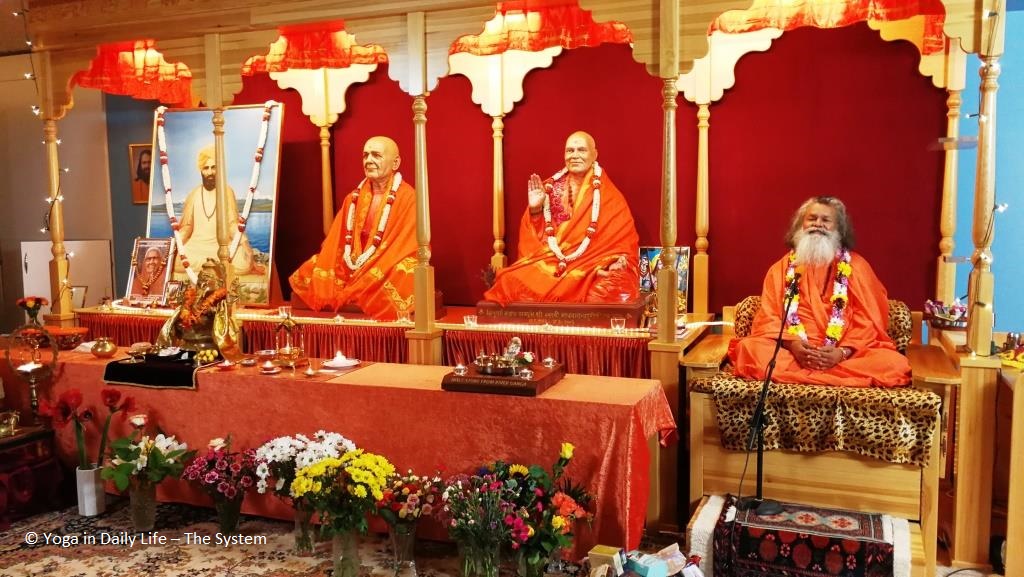 In his satsang, Vishwaguruji explained the particular constellation and characteristics of this full moon day:
"Today is a very special day, a special powerful and auspicious full moon, called Sharad Purnima, which eminates the energy of immortality (amrit). This year, this full moon falls on a Thursday, the day dedicated to Jupiter according to astrology – so, at the same time, it is a 'Guru Purnima'. On this particular constellation, Sri Mahaprabhuji gave Holy Guruji the Sannyas Diksha (Swami initiation).
"Before Sharad Purnima was Navratri, nine nights in which the Divine Mother is venerated – one of the holiest festivals of India. After Navratri, Dussehra is celebrated, the victory of good over evil, when God Rama defeated the demon king Ravana. And soon will come Diwali, the festival of lights, when God Rama returned to his kingdom's capital Ayodhya, after 14 years of exile. Diwali is also the day of the incarnation of Bhagwan Sri Deep Narayan Mahaprabhuji. On the morning after Diwali, Lakshmi, the goddess of wealth and happiness, is revered. This entire month of October is therefore a month with many special and meaningful events."
For Sharad Purnima, a special sweet dish, kheer (milk rice) is traditionally prepared as prashad.
Kheer Recipe

Add 1 litre of milk, 1 tablespoon of rice and some cardamom seeds to a pot. Let it boil and simmer on a low flame until the milk is reduced to ½ litre. Then take it off the stove and add sugar to taste. Cover the pot with a glass lid and place it on the balcony or in the window in the light of the full moon. Leave the Kheer standing there all night. It does not matter if the sky is covered with clouds, the power and radiation of the full moon is not hindered or diminished. Through the moonlight the kheer becomes nectar, which strengthens and animates the body, mind and soul.
Vishwaguruji ended the satsang by repeating the Gayatri Mantra five times with all satsangis. He explained that this mantra is one of the oldest mantras and is handed down from the Vedas. Singing the Gayatri Mantra cleans the whole atmosphere and environment.