Vishwaguruji's first visit to Cuba
Vishwaguru Paramhans Swami Maheshwarananda visits Cuba for the first time from 18 to 27 April 2017.
For the second decade, the teaching and practice of The System, Yoga in Daily Life is growing in Cuba, due to the tireless efforts of Vishwaguruji's disciple, Sadhvi Yamuna. In the past decade, YIDL has spread to many social and economic sectors in Cuba, especially to educational institutions, and practitioners have finally had the opportunity to directly experience the love and wisdom of the author and master of Yoga in Daily Life.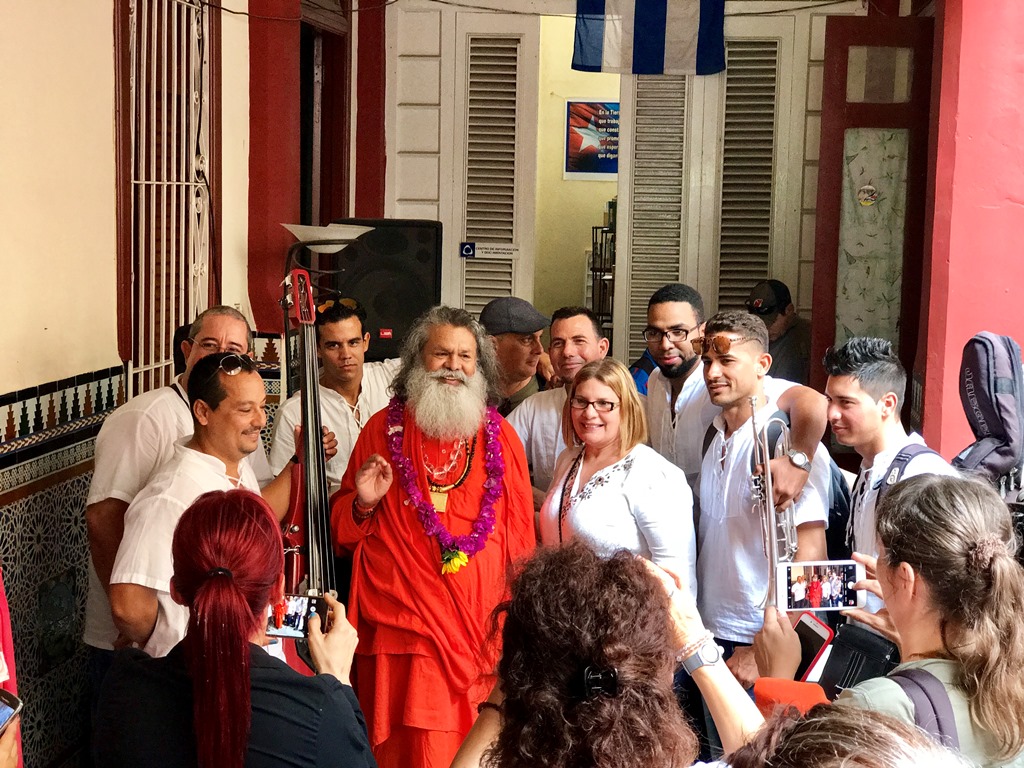 The official invitation for Vishwaguruji's visit to Cuba and to the city of Holguin was extended by the Cultural Ministry of Cuba, the cultural center in Holguin called Casa de Iberoamerica, and the University of Holguin, to provide education in the science of Yoga in Daily Life.

The university officials presented him with an award recognizing the worldwide impact of YIDL's humanitarian, environmental, and world peace activities. Following the presentation, at a press conference with Cuban reporters, Vishwaguruji answered questions about the worldwide extent of YIDL's activities and the simplicity and scientific basis of the system.
Vishwaguruji completed his historic first visit to Cuba with further cultural exchanges and the planting of two Peace Trees in Playa Guardalavaca, a small town near the sea, and in the Holguin Botanical Gardens, in honor of YIDL's distinguished lineage. In recognition of his decades of promoting yoga and humanitarian activities and this personal visit to Cuba, the Casa de Iberoamerica in the city of Holguin also awarded him with a golden plaque with the symbol of the city. The award was authorized by the highest levels of the Provincial Government.
During his visit, Vishwaguruji was warmly welcomed everywhere by the Cuban people and authorities with traditional Cuban music and presentations about cultural history. In the same time, Cubans had the special oportunity to hear about ancient Hindu traditions and culture, and to experience the practices of Yoga in Daily Life directly from Vishwaguruji.
See extended article and more photos on YIDL web page: http://www.yogaindailylife.org/news/first-visit-to-cuba