Farewelling European Summer in Strilky Ashram
The last weeks of August were a constant celebration of sadhana (practice), satsang (spiritual lectures) and festivals of Rakshabandhan and Janmastami, in the presence of His Holiness Vishwaguru Maheshwaranandaji.
For more than 20 years, the Strilky Ashram in Czech Republic has provided a venue for seminars and retreats for Yoga in Daily Life practitioners from many countries around the world. The presence of Holy Masters such as Dharmsamrat Swami Madhavanandaji and His Holiness Vishwaguruji has made the place mahtiratha - a great pilgrimage location.
During the late weeks of summertime, the beautiful natural environment of green forests and meadows, gave the opportunity for recreation and development for spiritual seekers.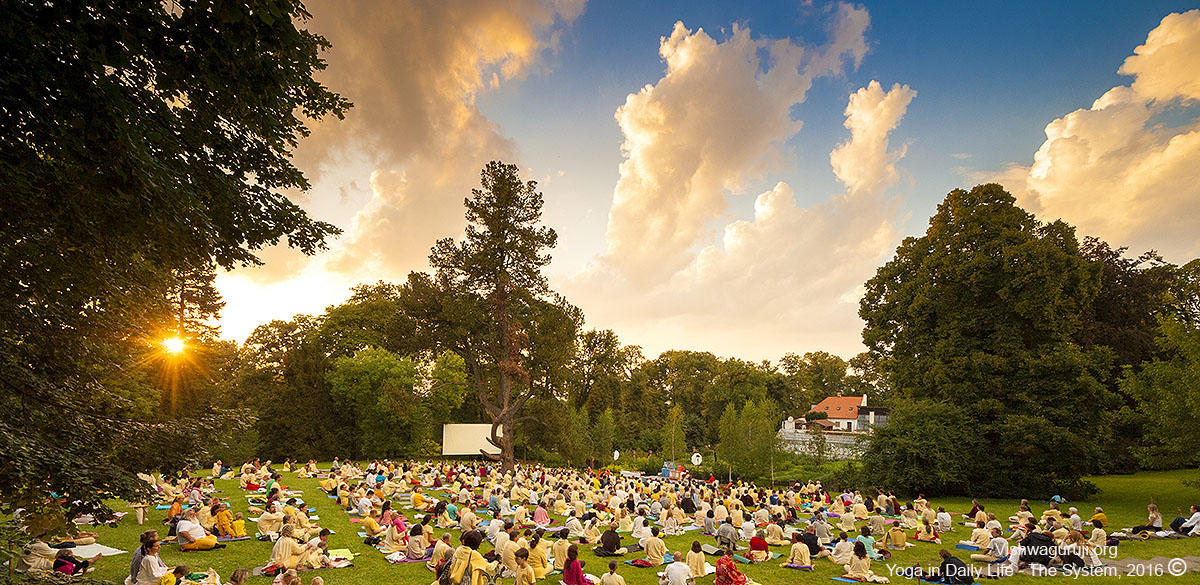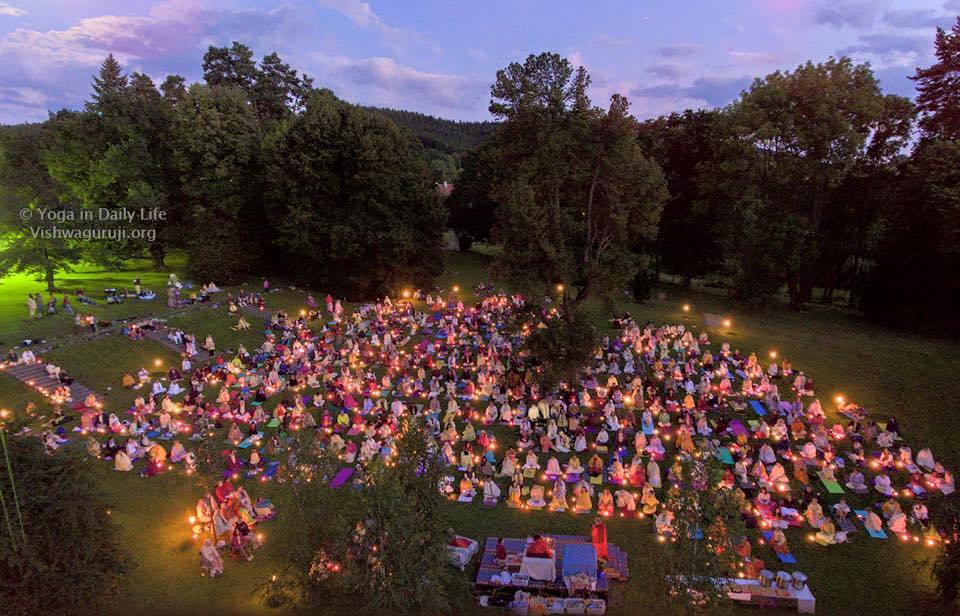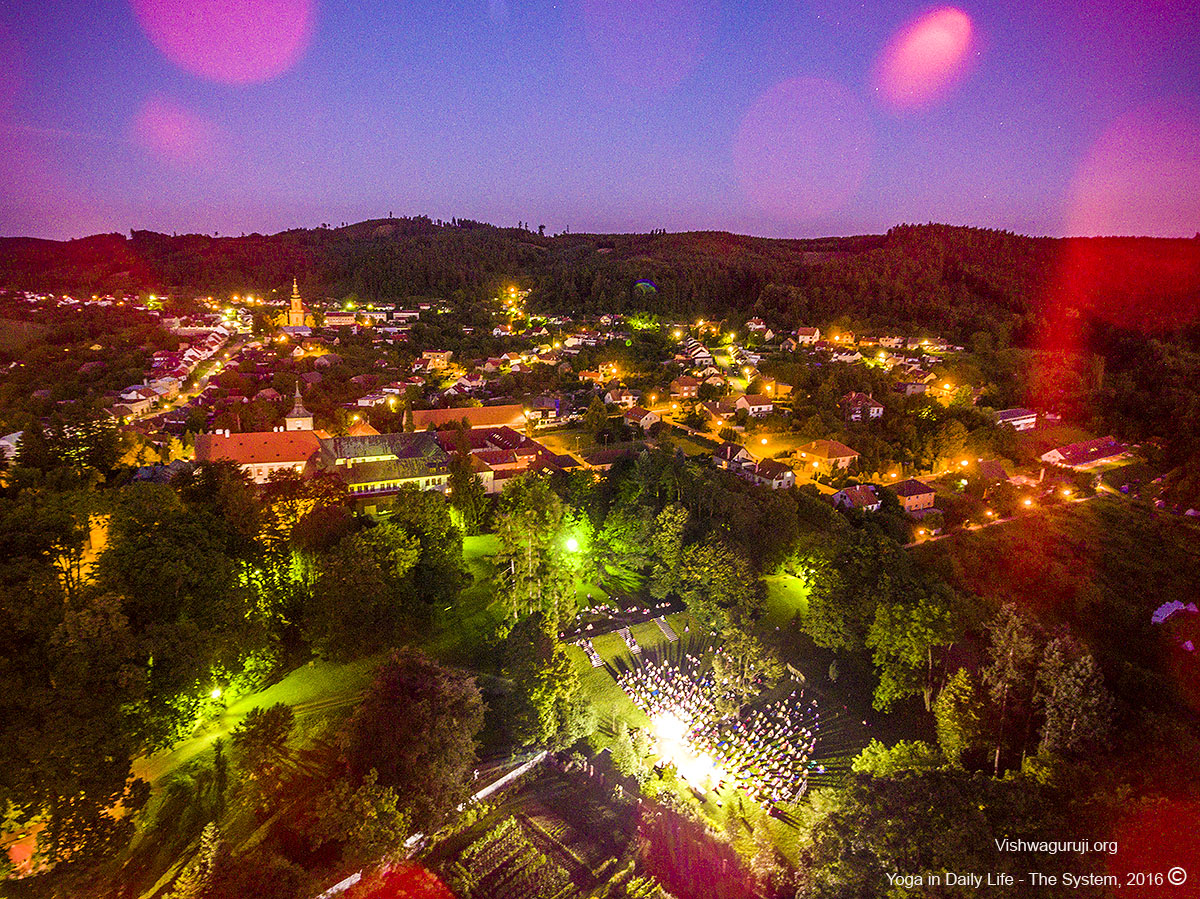 Vishwaguruji chose the topic of Raja Yoga for his lectures, after finishing a series of lectures on Prana, which had been focused on from the beginning of the European summer camps. Raja Yoga is the path of rulers who have the abilities of a king and a yoga practitioner at the same time. These abilities make one able to move safely in the world and bring the wisdom of yoga to others. A king should rule perfectly his own 'citizens of the body' - the senses, emotions, and inner functions - without being deceived by them. A raja, a ruler, can easily be respected by his qualities and wisdom; but the 'respect' for a dictator works only when the outer pressure is loaded on people.
The path of Raja Yoga is interwoven on many points with other paths of yoga, namely Karma, Bhakti, and Gyana - the paths of selfless action, devotion, and knowledge respectively. Raja Yoga is a complete knowledge for gaining the highest spiritual truth as summarized by Rishi Patanjali. It includes the eightfold parts of practice, ashtanga yoga. From the many aspects of Raja Yoga, Vishwaguruji highlighted the fundamental principles of ahimsa (non-violence), and satya (truthfulness).
During the seminar, on 15th August, devotees expressed to His Holiness Vishwaguru Swami Maheshwaranandaji their best wishes for his birthday. Streams of devotees flowed for hours in the beautiful park of Strilky Ashram, each wanting to personally wish Vishwaguruji a long life and good health.
On the evening of Janmastami, Sri Krishna's birthday, a ceremonial samskara (initiation) was presented for those children who start their school years in September. Vishwaguruji blessed them with good wishes and presents.
Janmastami is the celebration of light, protection, and happiness. When God incarnates on Earth, he has the duty to protect dharma (righteous duty), and fight against adharma. Krishna's birth was also celebrated in an original Indian play, with the children portraying the events surrounding the birth and early years of Sri Krishna.
Two of Vishwaguruji's disciple Mahamandaleshwars also took part in the program in Strilky. Swami Vivekpuri from Zagreb, Croatia gave lectures during the seminar, and Swami Gyaneshwarpuri from Jaipur, India gave a speech on the occasion of Janmastami.