Weekend seminar in Strilky Ashram with Gurudev
Celebration of Christmas and Remembrance of the Mahasamadhi of Sri Mahaprabhuji
Satsang in Guruji's Ashram in Vienna on 4 December and Weekend Seminar in Strilky Ashram 5-7 December 2014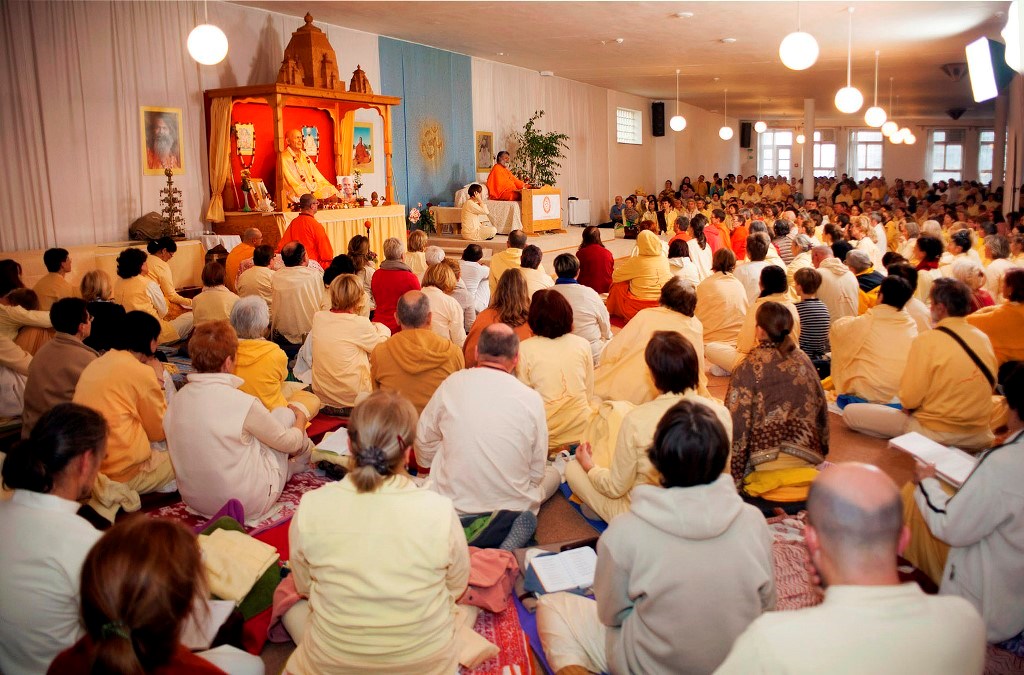 An evening satsang in Vienna and weekend seminar in Strilky Ashram, as Swamiji's last programmes in Europe for 2014, were in part dedicated to a celebration of Christmas. But on the 5th December, the Mahasamadhi day of our grand master Bhagwan Sri Deep Narayan Mahaprabhuji was commemorated as the triumphant day he left his physical form to merge into Brahman, the Cosmic Self.
Swamiji reminded us that, although Mahaprabhuji is no longer here in material form, he is even closer to us now – because he is within everybody's heart. He still protects us, guides and inspires us. The highest seva (service) is guru seva (service to the master). This does not mean to serve the person or physical form of the master, but to spread the divine teachings and the light of Mahaprabhuji. If we do not give further that which we have learned and received, it will be lost. Therefore the highest service that we can do is to give – give our knowledge, our wisdom, and to spread the light.
In seminar, Swami Gajanand gave a talk about Advaita Vedanta philosophy and Mahamandaleshwar Swami Vivekpuri pointed out the importance of correct understanding of Sat Sanatan Dharma and spiritual traditions and festivals based on the natural rhythm of the seasons, as we find in every culture.
Sadhvi Shanti also presented a slideshow of her journey to the holy pilgrim places in the Himalaya, where she has found evidence of our Sri Alakhpuriji Siddha Peeth (master lineage). In the high Himalayan areas in the region of Badrinath, the Alaknanda stream of the River Ganges emerges in the area of Alka Puri. Both names indicate the relation to Sri Alakhpuriji, the original ancestor and source of our Parampara (guru lineage). Located there are caves where Sri Alakhpuriji and Sri Devpuriji (the master of Sri Mahaprabhuji) meditated, and the radiance and miraculous presence of these great, immortal yogis can be felt strongly even today. (Learn more about the Guru Lineage of Yoga in Daily Life.)
Finally, a summary of the humanitarian projects of Yoga in Daily Life and Vishwaguru Swamiji was given: the Gyan Putra project for education in rural areas; the Gaushala refuge for abandoned, old and sick animals; the Rainwater Harvesting Project that gives life to villagers and animals in the semi-desert region surrounding Jadan Ashram; and the OM Ashram as the spiritual centre. (Learn more about humanitarian projects and OM Ashram.)
After the weekend in Strilky Ashram, His Holiness Abunathswami Maheshwarananda Puriji said farewell to the European bhaktas and started his World Peace Tour that will take him to New Zealand, Fiji, Australia and India.