Swamiji visits Sri Devpuriji Ashram in Zagreb, Croatia
29. September 2014
After four years, Abunathswamiji has again blessed Croatian bhaktas and Zagreb Sri Devpuriji Ashram with his darshan.
Only a bhakta can understand the joy and happiness of the ones heart when Gurudev comes to his doorstep; that happiness which our beloved Holy Guruji described in his beautiful bhajan:
ĀJ SAKHĪYE MERE ĀNANDA APĀRĀ
SATAGURU ĀYE NIJA GHARA DVĀRA
DARŚANA DEYA SARVA PĀPA NAŚĀYĀ
ĀJa JANAMA HĒ SAPHALA HAMĀRĀ
(TODAY MY FRIENDS, I AM ENDLESSLY JOYFUL
MY SATGURU CAME TO THE DOOR OF MY HOME
WHEN I SAW HIM, ALL SINS VANISHED FROM ME
TODAY MY ENTIRE LIFE BECAME SUCCESSFUL)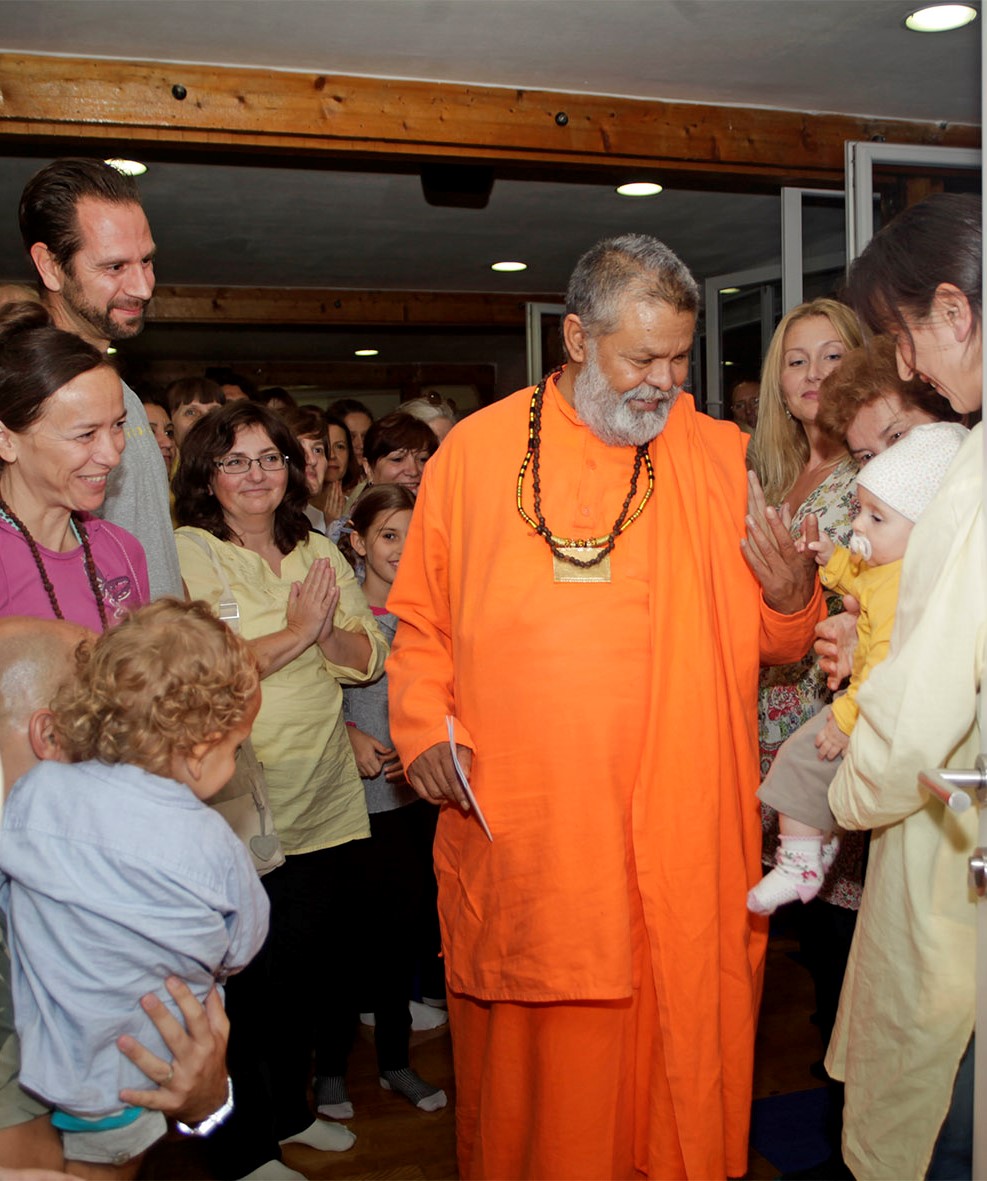 "Where residents are not angry, the house is never too small." Recalling this old Croatian proverb that, like all traditions, has its roots in the eternal Sanatan Dharma, Mahamandaleshwar Swami Vivekpuri welcomed Swamiji and all present. Bhaktas from Croatia and neighbouring countries, who literally filled every square metre of the ashram within just a few hours of the announcement, came to have the satsang, blessing and darshan of His Holiness. The satsang atmosphere and pearls of Guruvakya erased all the tiredness of the working day and travelling from long distances; leaving happy smiling faces.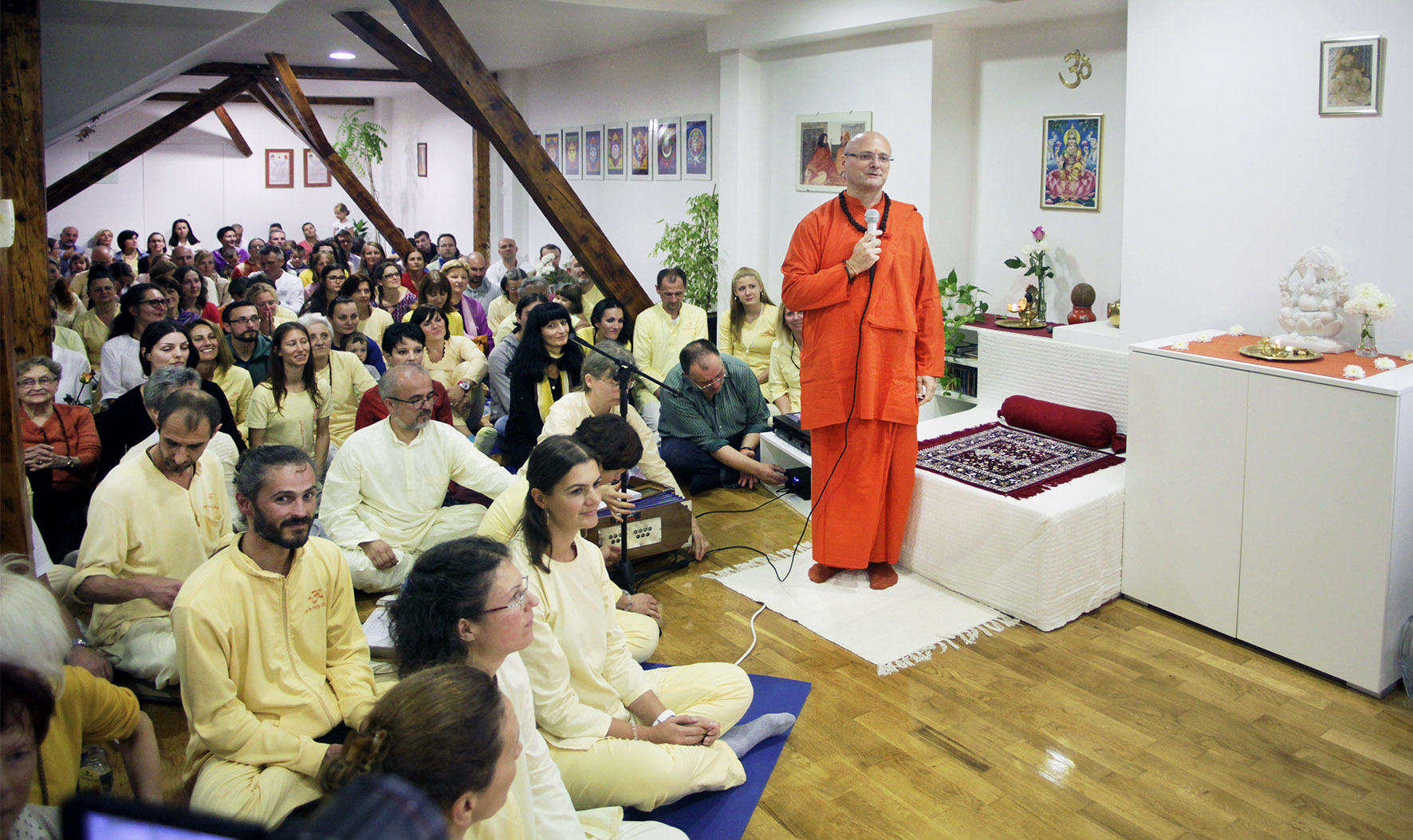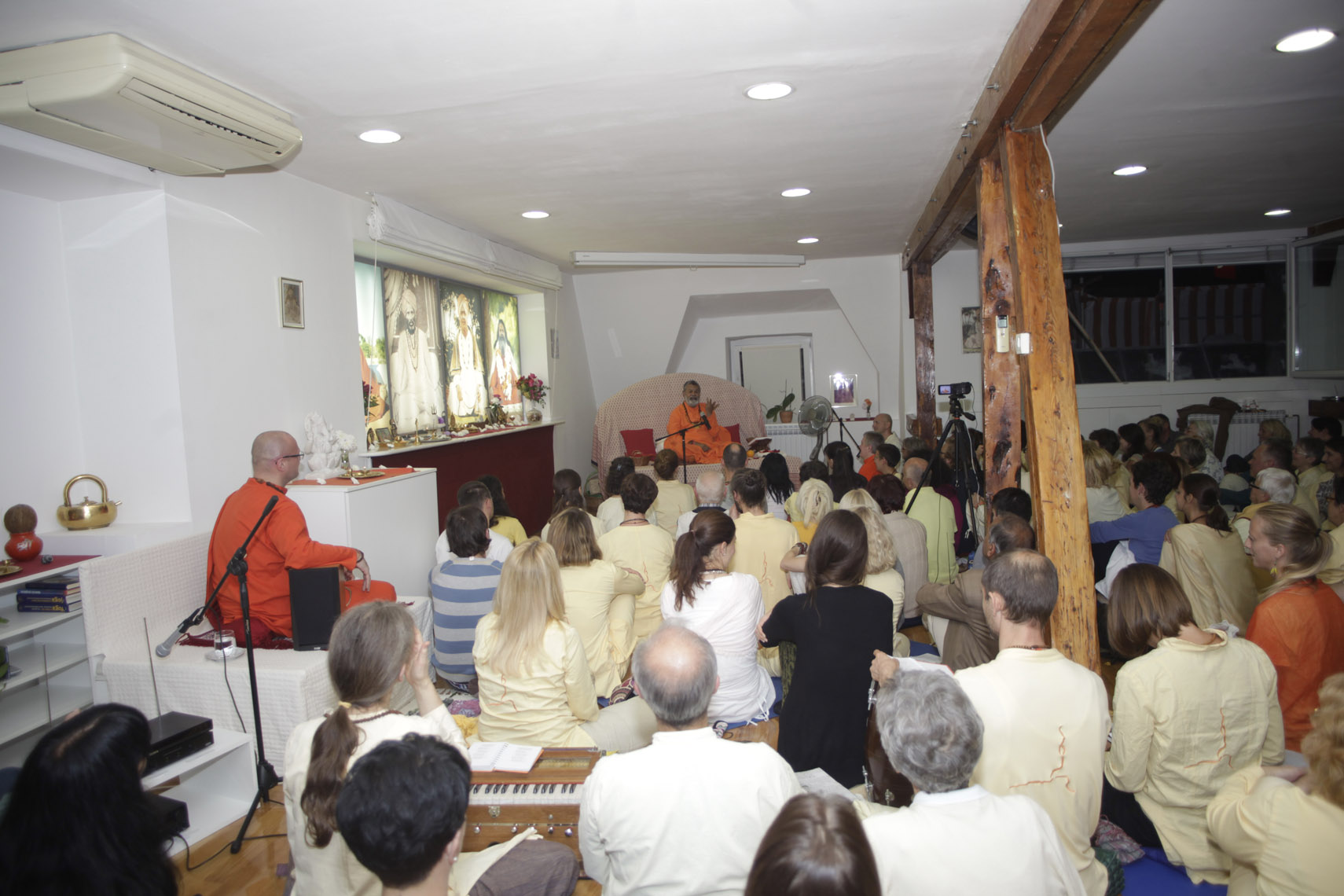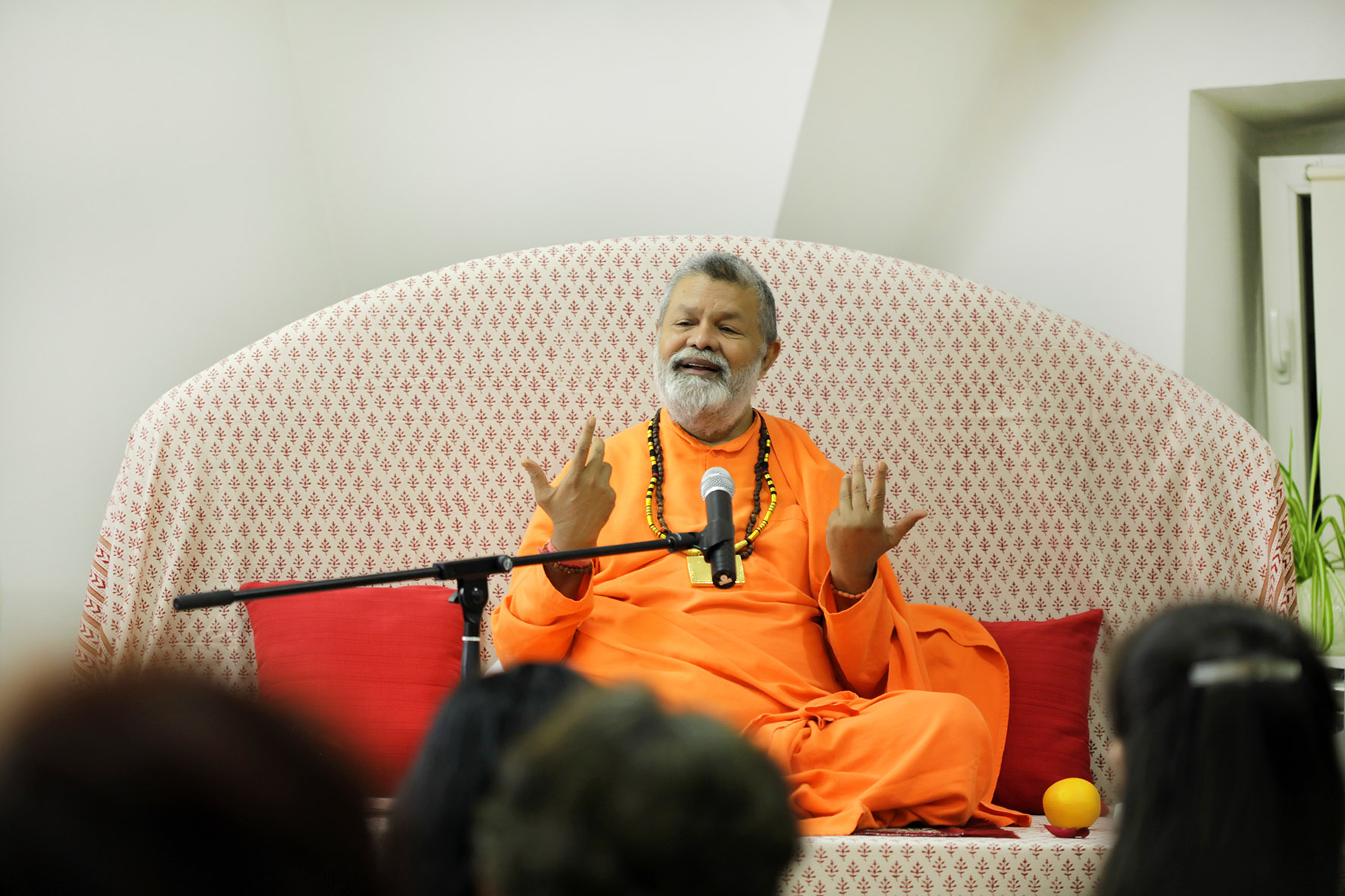 Swamiji continued with subjects from the last few seminars and satsangs and said:
"This ashram is very neat and clean, thanks to the work of many bhaktas who were working here during many years. Compare this with your own room – how does your room look at home? Sri Mahaprabhuji said: 'What you have inside, that you project outside'.
"The inner purification is very important. Within our antahkarana (mana, buddhi, chitta and ahamkara) are many remains, obstacles. Inner problems are mal, vikshepa and avaran. When our antahkarana have an immense amount of impurities then we create within our self vikshepa, disturbances, and then we produce restlessness in the outer world.
"If you have an apple in your pocket or bag, you give an apple; if you have poison, you give poison. It depends, what you have in your pocket – the pocket of our heart, our consciousness and intellect. Whatever we think or speak is a projection of our purity or our impurity. What you have inside, like that you put outside.
"So first is purification, that's what is called spirituality. Spirituality means purity. In order to realise this we should complete the four purushartha in our lives. Purushartha means working, trying, following – anything that we do. Purusha means human, male or female. In spirituality there is no duality of the gender; the soul is within all and all we are children of God. You are daughters of God and you are sons of God; that God called 'Brahman'. But not only you – a little mouse is also a son or daughter of God. A little ant running here around the prashad is also a daughter or son of God. Each and every entity is that light of God, that Atma. When the antahkarana is pure then it is like a polished diamond, very nice. This polishing of a diamond is three-side polishing; the diamond is cut and these three sides that are removed are mal, vikshepa and avaran. And then... the diamond is shining.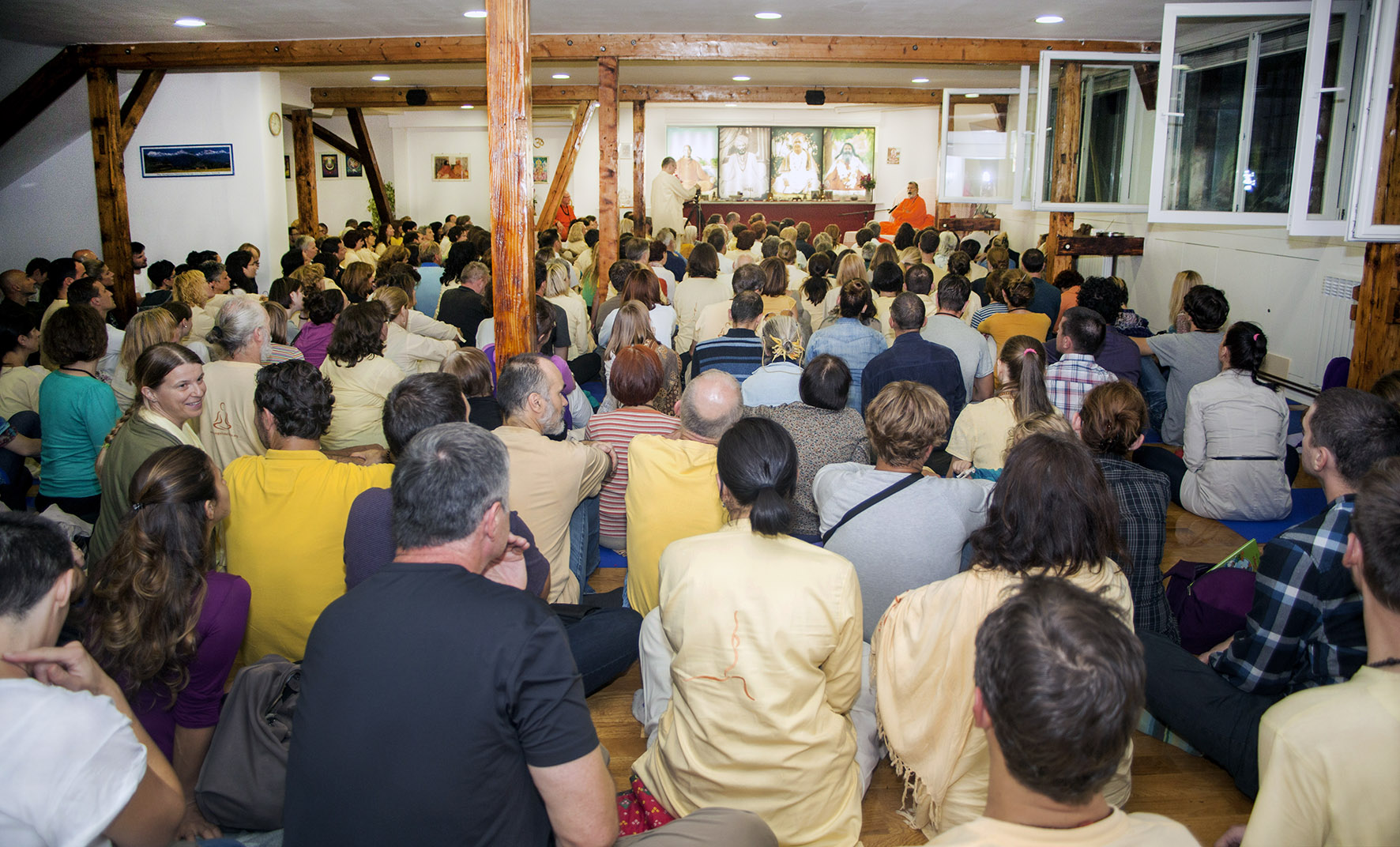 Watch Swamiji's satsang on YouTube: