H.H. Abunathswami Maheshwarananda in Strilky Ashram
HH Abunathswami Vishwaguru Mahamandaleshwar Paramhans Maheshwarananda will lead the Summer Sadhana Camp seminar in Mahaprabhu Deep Ashram, Strilky, Czech Republic. The seminar started on Friday 25 July 2014 and lasts for one month. All techniques will be practiced in the seminar: asana, pranayama, kriya, meditation, and other traditional methods of the Yoga in Daily Life system. Programs for both beginners and advanced groups have been organised, as well as a special program for children.
Every day from 10:00-11:30 and 19:30-21:00 (local Czech time) there are live webcast with gurudev Abunathswami Maheshwaranandaji giving lectures on various topics.
About Mahaprabhu Deep Ashram, Strilky, Czech Republic
The day of the Dark Moon is called Amavasya, when an exact conjunction takes place between the Sun and the Moon. That night happened to be on Saturday 26 July and after two or three days the new moon appears as a thin crescent of light in the sky, just after sunset.

The New Moon is the symbol and ornament of Shiva, whose form is the whole Universe. The Moon represents the element silver, as a symbol that brings prosperity and well-being. Having darshan (a glance) of the New Moon and then looking to a piece of silver brings good fortune into one's life.

The four-week long Summer Sadhana Camp started under the fortunate constellation of Shravan Amavasya, with the divine guidance of Gurudev Abunathswami Maheshwaranandaji.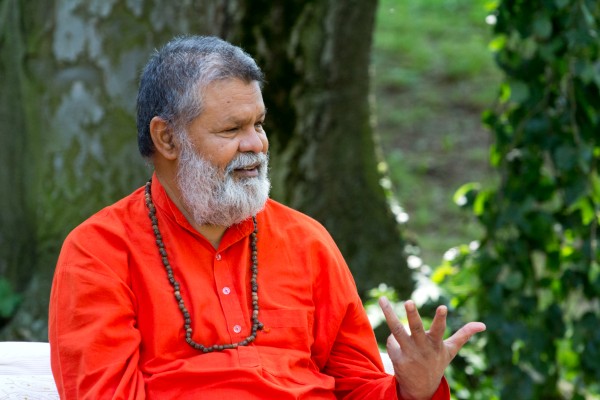 His Holiness Swamiji says, "Only form can be changed in the world. When we exist individually, we have that form and destiny. Only as the individual are we able to move. But the One that does not move is the Universal and it is called achal, immovable. We all live and exist individually, but finally we merge into the Universal." And this is principle that we call yoga.