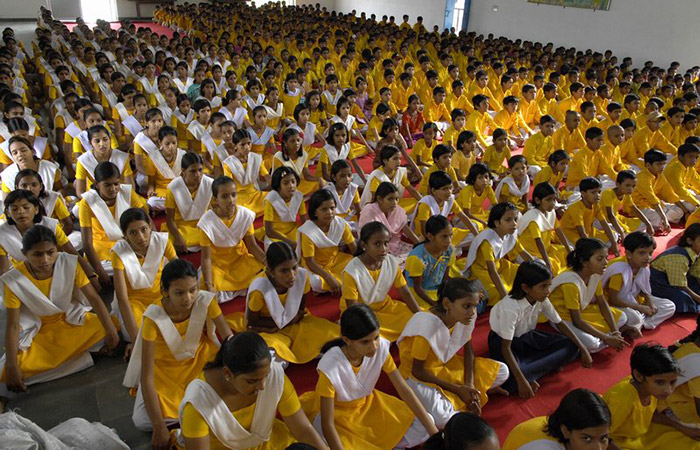 This is the desert region of Rajasthan, dry & arid, and subject to long years of drought. Conditions are hard for those who live here - opportunities are limited. It is often the case that families cannot afford to send their children to school and frequently it is the girls that miss any chance of an education.
One of the most remarkable projects is the "Gyan Putra" scheme that commenced in 1998. It is designed to provide financial support for school children from poor families. The mayor of their village and the school principals select these children, and the Gyan Putra scheme provides them with school fees, school uniforms and shoes, stationery and text books.
In Śiva Mahā Purāṇa, Umā Saṁhitā, Adhyāya 14 is written:
तुलादानानि शस्तानि गाव: पृथ्वी सरस्वती।
द्वे तु तुल्यबले शस्ते ह्यधिका च सरस्वती॥४॥
tulādānāni śastāni gāva: pṛthvī sarasvatī ।
dvē tu tulyabalē śastē hyadhikā ca sarasvatī ॥4॥
The gift of gold, land, education and tuladana are highly praised.
Of these the first two gifts are equal, but the giving of education is the best of all.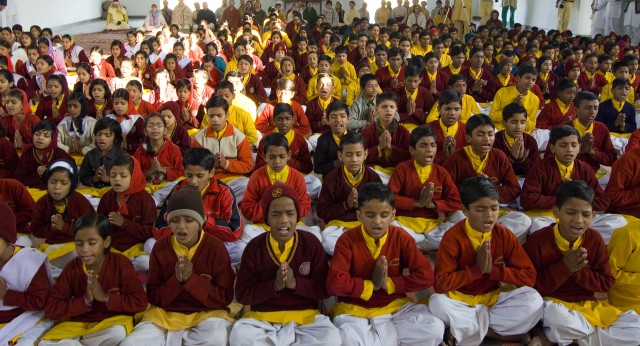 Shree Vishwa Deep Gurukul Senior Secondary School is a Hindi Medium school affiliated to the Rajasthan Board of Education. The schools aims and objectives are:
to provide the highest quality education

to enable students from poor rural backgrounds to have access to high quality education

to provide free education to girls

to accept students of all standards and without distinction based on caste or creed

to cultivate an awareness of the traditions and culture of Rajasthan and the principles of ahimsa, truth and tolerance to all.
Established in 2002 under the guidance and with the inspiration of Mahamandaleshwar Paramhans Swami Maheshwaranand Puri Ji Maharaj with an initial intake of only 5 classes and 120 students. Over time the school has blossomed into a Senior Secondary School with more than 1200 students plus an attached graduate college.
Whilst the school embraces modern technology with AV facilities in each room, computer labs and fully equipped science labs, there is also a continuous connection with cultural roots through study of sanskrit, yoga and the timeless philosophy of India - sanatan dharma.
The School runs under the auspices of Shree Vishwa Deep Gurukul Maheshwaranand Ashram Society, founded in 1993 by Paramhans Swami Maheshwaranand Puri Ji Maharaj for the service of all people. An enthusiastic international team of volunteers, together with the Members of the Society work together to bring Swamiji Maharaj's vision into reality.
Staff from the school are selected after rigorous testing from the local area and throughout Rajasthan. All staff are highly qualified and valued for their dedication and enthusiasm for the welfare of the students.
Over the years the hard work of all involved has born fruit in the form of various successes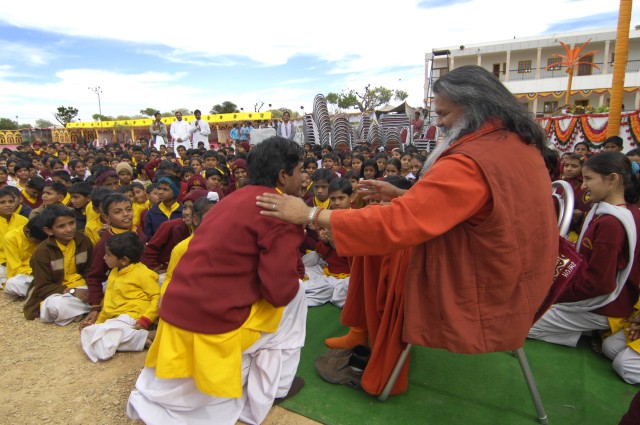 Jadan school http://www.omashram.com/projects/vidyala